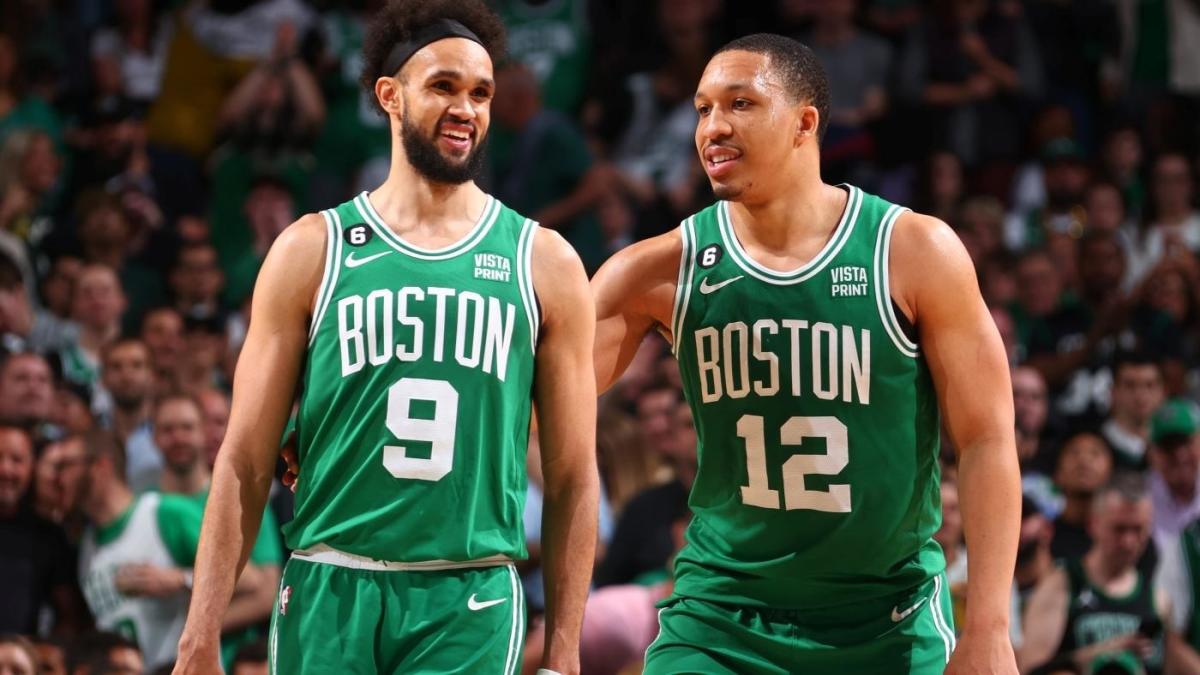 Celtics survive once again with a resounding win | Who is the best shortstop in MLB going forward?
Happy Friday, everyone! It's Wajih AlBaroudi filling in for Zach again today. 
Let's get you caught up. 
Good morning to everyone but especially to…
THE BOSTON CELTICS
Sorry, LL Cool J, we might have to start calling this one a comeback. The Boston Celtics kept their season alive with a 110-97 win over the Miami Heat in Game 5 of the Eastern Conference Finals, and it was never close. Boston led wire-to-wire for a second consecutive dominant win, leaving Heat fans queasy as the series shifts back to Miami for Game 6. 
Showing out on both ends, the Celtics had four players score at least 20 points and forced 16 turnovers against a Heat team missing two key ball handlers in Gabe Vincent and Tyler Herro. 
The Celtics have now won a franchise-record four elimination games in a single postseason, and if they make it six by eliminating the Heat, they'd be the first team in NBA history to successfully come back from a 3-0 deficit. 
Derrick White led Boston with 24 points on 8-for-11 from the field and 6-for-8 from 3-point range, but he was far from the team's only hot shooter. Marcus Smart knocked down four of his six 3-pointers in a 23-point night, and Jaylen Brown finally found his rhythm by scoring 21 points on 9-for-18 from the field and 3-for-5 from deep. 
Smart showed why he was last season's Defensive Player of the Year by recording five steals, and his teammates followed along as three of the other four starters swiped at least two steals of their own. 
CBS Sports' Jasmyn Wimbish explained why aggression and effort had Boston looking like the juggernaut they were for most of the regular season. 
Wimbish: "On defense, Boston was aggressive and forced Miami into 16 turnovers, which resulted in 27 points. They were fighting for every 50-50 ball, got out on shooters and made life difficult, primarily for [Bam] Adebayo who accounted for six of Miami's turnovers. The Celtics showed tonight why so many people picked them to win this series, but they're still playing with their backs against the wall heading into Game 6." 
Miami better hope it wins Game 6 because TD Garden would be absolutely rocking in a potential Game 7. 
And not such a good morning for…
Getty Images
THE MIAMI HEAT
Oh, what a difference five days can make. On May 21, the Heat pummeled the Celtics 128-102 to take a commanding 3-0 series lead. Now, after two consecutive double-digit losses, the momentum is all on Boston's side, thus making Game 6 a must-win.
The Heat missed Vincent desperately in Game 5, as they turned the ball over 16 times with Kyle Lowry being the only healthy player capable of running the offense. Miami was constantly a step slow defensively as well, allowing the Celtics to find their stroke from 3-point range for the first time this series. 
Lowry was abysmal in a spot start for Vincent, as he went 2-for-5 from the field to score five points, only one above his turnover total for the game. Bam Adebayo didn't take care of the ball either, as he had a season-high six turnovers. 
Miami allowed the Celtics to shoot 41% from 3-point range after holding them to 32.5% over the first three games. 
Duncan Robinson was one of the lone bright spots for Miami, as the sharpshooter scored 18 points on 7-for-10 from the field and 2-for-3 from 3-point range, adding nine assists and four rebounds. 
Game 6 is slated for Saturday in Miami, and if one player is confident, it's Jimmy Butler. Mr. Buckets had a quiet Game 5, recording only 14 points, five rebounds and five assists. That isn't stopping him from calling his shot for Game 6, as Butler said after Thursday's loss Miami "can and will win this series" at home.  
Pavelski scores overtime game-winner vs. Golden Knights to keep Stars alive 🏒
Getty Images
Down 3-0 in the Western Conference Final with their captain and another key forward out, the Dallas Stars could very well have packed Game 4 in and started their summer vacation early. Instead, Dallas prevailed 3-2 in overtime and has lived to see another game against the Vegas Golden Knights. 
Joe Pavelski scored the game-winner 3:18 into overtime, breaking what had been an ice cold stretch for the Stars as it relates to the extra period. 
The Stars entered Thursday's game 0-4 in overtime this postseason and 0-2 this series, a trend they're happy to have broken. 
Pavelski's game-winner marked his 30th power play goal in the Stanley Cup Playoffs, surpassing Alex Ovechkin for the most of any active player.
At 38 years and 318 days, Pavelski is now the oldest player in NHL history to score an overtime game-winner in an elimination game.
Dallas managed to defeat Vegas without captain Jamie Benn, who's serving a two-game suspension for cross-checking Mark Stone in Game 3, and forward Evgenii Dadonov, who's nursing a lower-body injury. 
Jason Robertson was critical to Dallas' win, scoring two goals to give him four for the series and six for the postseason. He'll need to come up big again for Dallas to force Game 6, as Benn will miss Game 5 in Vegas, which is slated for Saturday at 8 p.m. 
Can Wander Franco, Bo Bichette challenge for the title of best shortstop? ⚾

Getty Images
From Corey Seager to Xander Bogaerts, MLB is loaded with shortstops who could make a case they're the league's best. Just where do rising stars such as Wander Franco and Bo Bichette factor into the conversation, though? CBS Sports' MLB experts discussed that very topic in this week's Batting Around.
Our Mike Axisa is highly confident Franco is the best long-term option, but for right now he's going Seager over the likes of Carlos Correa and Trea Turner.  
Axisa: "If we're picking the best shortstop for the next 10 years, then I'd take Wander Franco, no questions asked. If we're picking for just 2023, then I'd go Corey Seager. He's been excellent (around his hamstring injury), he's in his prime, and the skills suggest he should be a high-end performer all year. Carlos Correa and Trea Turner have struggled enough that I lean Seager." 
Matt Snyder, meanwhile, is going young for his choice but is passing on Franco. Instead, Snyder is picking the ever improving Bichette. 
Snyder: "Given his inconsistencies and injury history to this point, his recent slump makes me want to move off of him. To be clear, he's already great and he's going to get better. I'm only saying it gives me pause in saying he's the best shortstop in baseball right now. Instead, I'll stick in that division and say it's Bo Bichette's time. It's his third full season and he continues to get better just about everywhere (significantly lowering his strikeout rate, for example). He has the foundation right now to make the leap into a high MVP finish (top five or even top three?)." 
What we're watching this weekend 📺

(All times eastern)
Friday
⚾ Padres at Yankees, 7:05 p.m. on Apple TV+ 
⚾ Rangers at Orioles, 7:05 p.m. on MLB.tv
🏎 NASCAR Truck Series at Charlotte Motor Speedway, 8:30 p.m. on FS1
Saturday
⚾ Dodgers at Rays, 4:10 p.m. on MLB.tv
🏒 Stars at Golden Knights — Game 5, 8 p.m. on ABC
🏀 Celtics at Heat — Game 6, 8:30 p.m. on TNT
Sunday
🏎 Indianapolis 500, 12:45 p.m. on ABC
🏎 NASCAR Coca-Cola 600, 6 p.m. on Fox
⚾ Phillies at Braves, 7 p.m. on ESPN