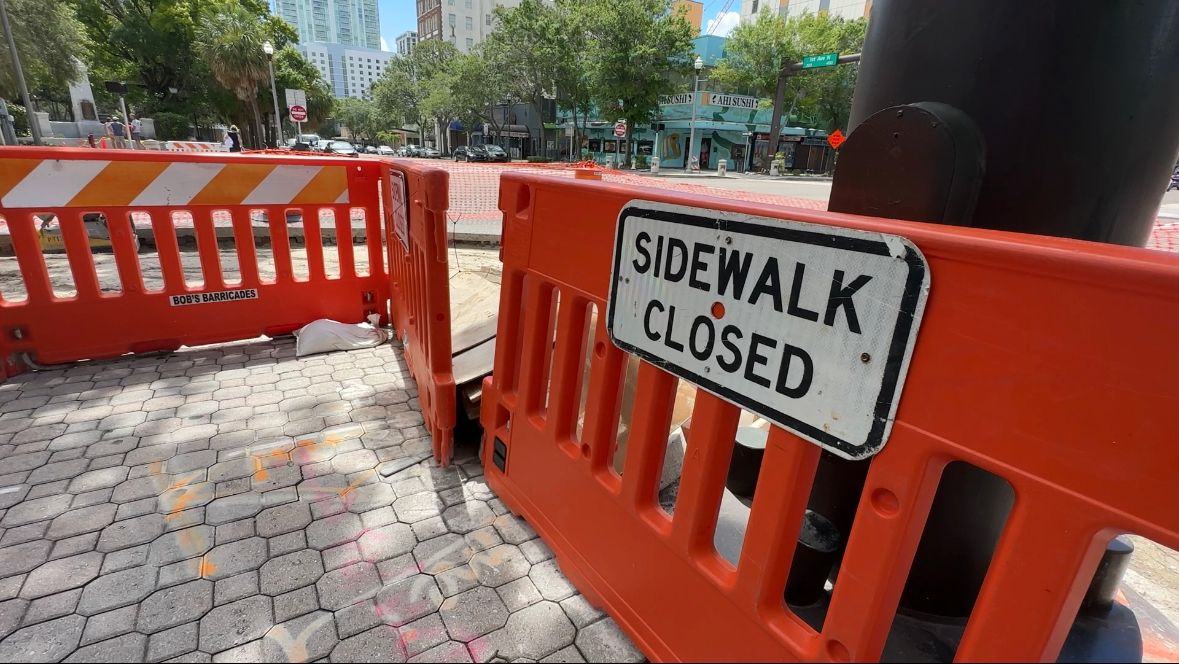 Businesses working around construction in downtown St. Pete
ST. PETERSBURG, Fla. — As St. Petersburg continues to welcome in developers, construction sites are getting in the way of residents, visitors and businesses.
What You Need To Know
Multiple construction projects continue to affect residents, visitors and businesses in downtown St. Petersburg
Earlier this week, developers, construction companies and business owners met to find solutions to the ongoing construction
Some businesses say construction is impeding business, while others are hopeful more development will be good for business
St. Pete issued a record number of permits in the last fiscal year, according to city data
Some business owners said they are growing frustrated with issues like blocked sidewalks and parking, while others are looking forward to the higher foot traffic new development will bring in.
Earlier this week, the St. Petersburg Downtown Partnership brought developers, construction companies and business owners together to look for solutions to the ongoing construction. The CEO of the organization said the meeting was constructive and that all side agreed they need to find a balance between the city's growth and preserving small businesses.
For the past 20 years, Melissa Griffith has been running her jewelry repair store, Lightning Fast Jewelry Repair, out of St. Pete. Over that time, she's watched the city grow and change. 
"It was a quaint downtown," Griffith said. "It's not quaint anymore. It's very vibrant, very lively and a little bit of a little New York City is what I feel sometimes when I walk down towards all those tall buildings."
City data shows St. Petersburg issued a record number of permits during the last fiscal year, bringing more than $1 billion in construction value. As more developers come in to downtown, Griffith said parking continues to be an issue.
"I hear it every day from my clients. 'I can't hardly find a spot to park,'" she said. "I even let them park in the loading zone just to drop off and I will run out to your car if you call me. I've run out to the car and picked up things, rolled up envelopes for my clients. So I know it is troublesome."
Other businesses said construction is slowing down foot traffic because of sidewalk closures and the lack of parking. Some are even considering moving out of the area. While Griffith said there are some negative impacts from development, she believes it will ultimately be good for business.
"The daily walk-ins it is up," Griffith said. "And the construction workers wear jewelry and watches too, so I get business from them and I appreciate them. You know, it's troublesome, but that's the pains of growing, that's what it's all about."
One solution business owners and developers agreed on during their meeting is that there is a need for more marketing and signage at each block to let people know there are businesses in constuction areas and which ones are open.