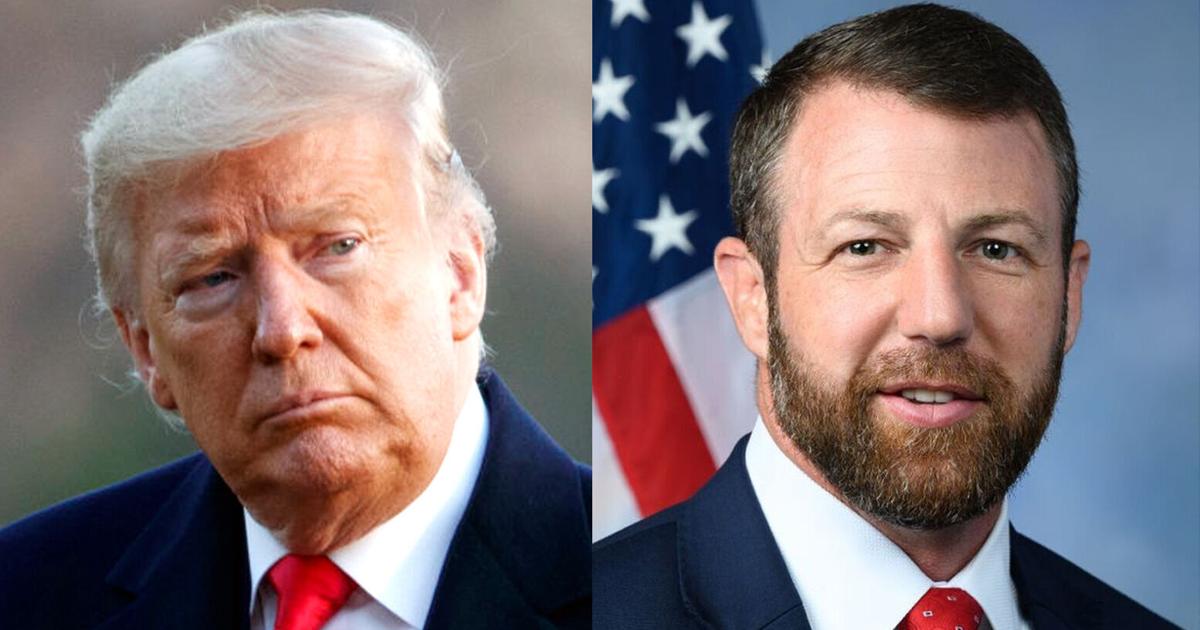 Trump to attend NCAA wrestling tournament as guest of Mullin
Former President Donald Trump is coming to Tulsa on Saturday to attend the NCAA Wrestling Championship as the guest of Sen. Markwayne Mullin, the senator confirmed in a text to the Tulsa World late Thursday.
Trump last appeared at the BOK Center in June 2020 while campaigning for reelection.
Bryan Crowe, vice president and general manager of the BOK Center, said Thursday that he did not have any information on the visit.
But multiple sources, speaking on the condition of anonymity, had told the Tulsa World earlier Thursday that the former president is expected to attend the event on Saturday.
Check out our latest digital-only offer and subscribe now
Mullin wrestled at Stilwell High School and attended Missouri Valley College on a wrestling scholarship, according to his Senate website.
People are also reading…
Trump is not expected to make any public statements or make himself available to the media, according to sources.
Trump's June 20, 2020, visit to Tulsa drew headlines across the country because it was his first campaign stop since COVID-19 broke out earlier in the year. The event was originally scheduled for June 19, Juneteenth, which sparked an outcry from African American leaders.
The Trump rally is probably best known for its poor turnout. Leading up to the event, Trump campaign officials said more than 1 million people had RSVP'd. The actual attendance was closer to 7,000.
Mayor G.T. Bynum drew heavy criticism for allowing the event, which took place amid the nationwide unrest that followed the killing of George Floyd at the hands of Minneapolis police.
He has maintained consistently that he did not have the authority to single the event out for cancellation.
"The decisions I made there were about providing equal opportunity for people to make their voice heard," Bynum said a few months after the rally.
He noted at the time that the city ensured that Black Lives Matter protesters had an opportunity to express their views and that he thought it was important to do the same for Trump supporters.
"They both have a right as Americans to make their voices heard. And I defended both groups and have taken heat from both sides for my defense of them," Bynum said.
Tulsa Police Capt. Richard Meulenberg told the Tulsa World on Thursday that the Police Department has not received any confirmation or official notice that Trump is coming to town again.
"And any sudden notice would have to come from the Secret Service or his specific detail," Meulenberg said.
Asked whether the Police Department has had conversations with the Secret Service about a possible visit, Meulenberg said he couldn't disclose that "because it would be a question of national security."
World staff writer Randy Krehbiel contributed to this story.
Throwback Tulsa: Donald Trump visits Tulsa for campaign event seven years ago today
January 2016: 10 minutes of Donald Trump highlights as he visits Tulsa
2016-01-21-ne-trump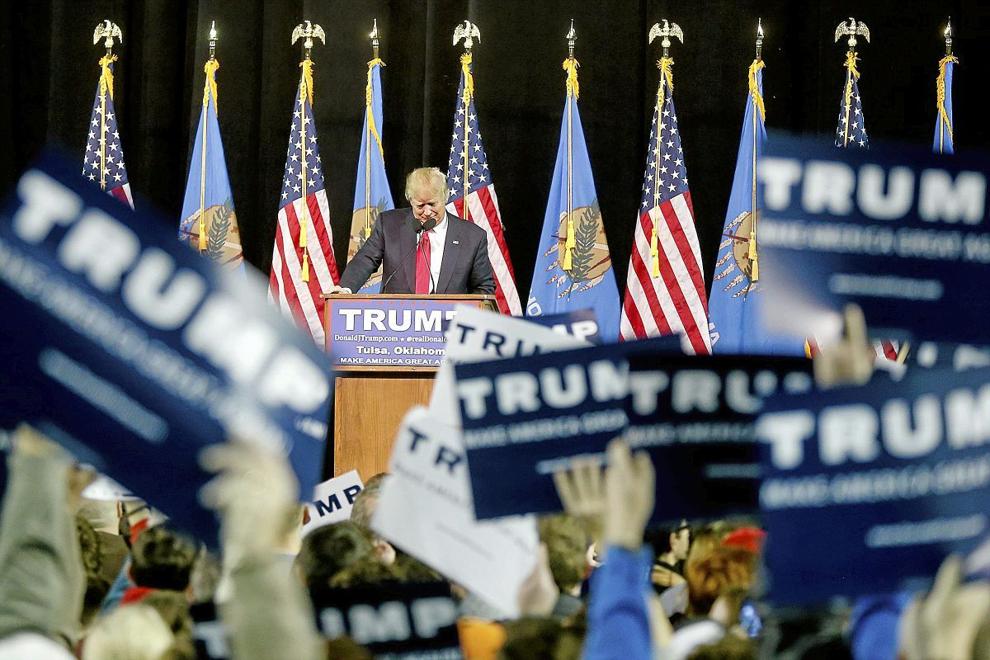 Republican Presidential candidate Donald Trump stares at his notes while supporters wave signs during his rally at the Mabee Center at Oral Roberts University in Tulsa on Wednesday, January 20th, 2016. IAN MAULE/Tulsa World
IAN MAULE
2016-01-21-ne-trump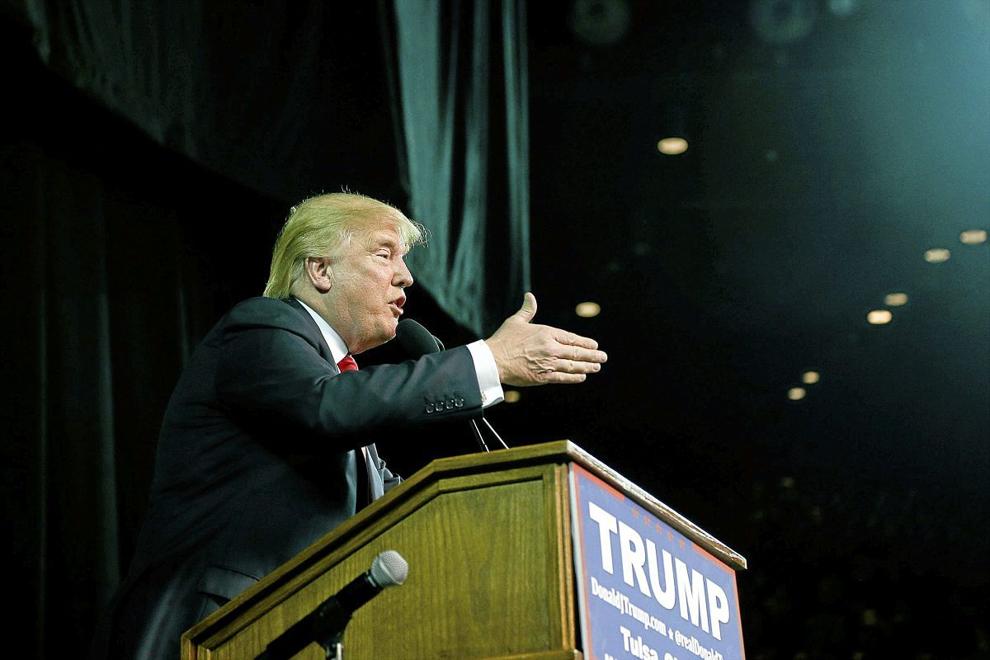 Presidential candidate Donald Trump addresses a crowd during his rally at the Mabee Center at Oral Roberts University in Tulsa on Wednesday, January 20th, 2016. IAN MAULE/Tulsa World
IAN MAULE
2016-01-21-ne-trump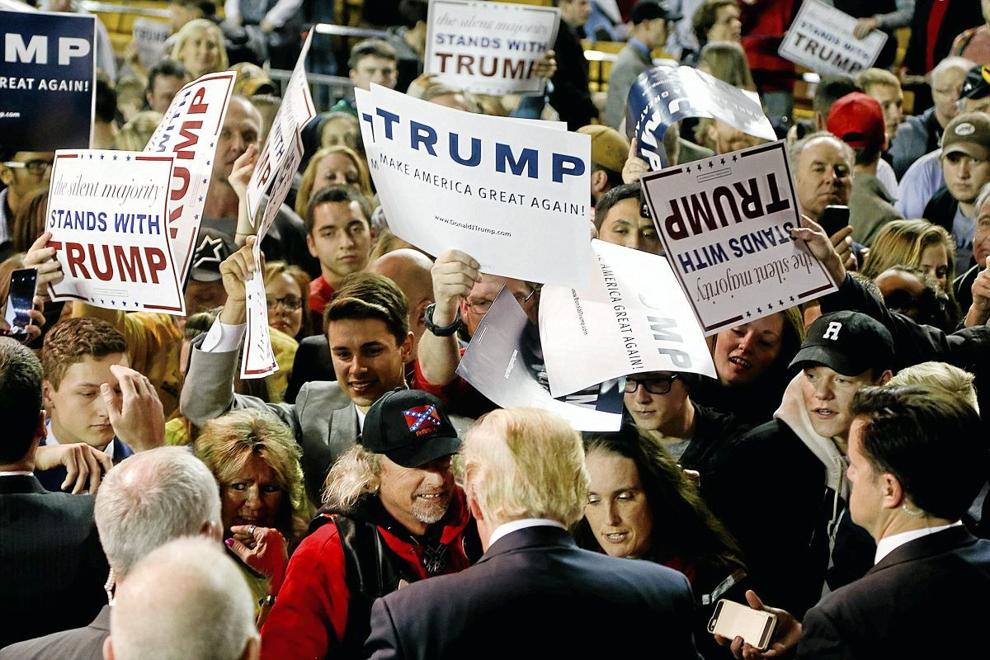 Donald Trump supporters attempt to get the presidential candidate's signature after his rally at the Mabee Center at Oral Roberts University in Tulsa on Wednesday, January 20th, 2016. IAN MAULE/Tulsa World
IAN MAULE
2016-01-21-ne-trump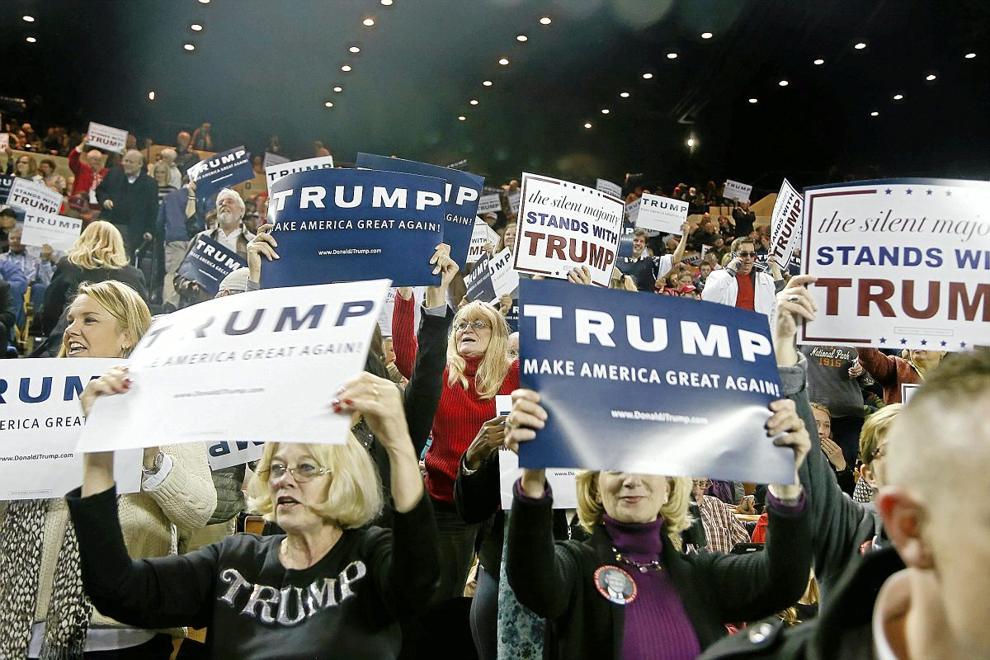 Republican Presidential candidate Donald Trump supporters cheer and wave signs during his rally at the Mabee Center at Oral Roberts University in Tulsa on Wednesday, January 20th, 2016. IAN MAULE/Tulsa World
IAN MAULE
2016-01-21-ne-trump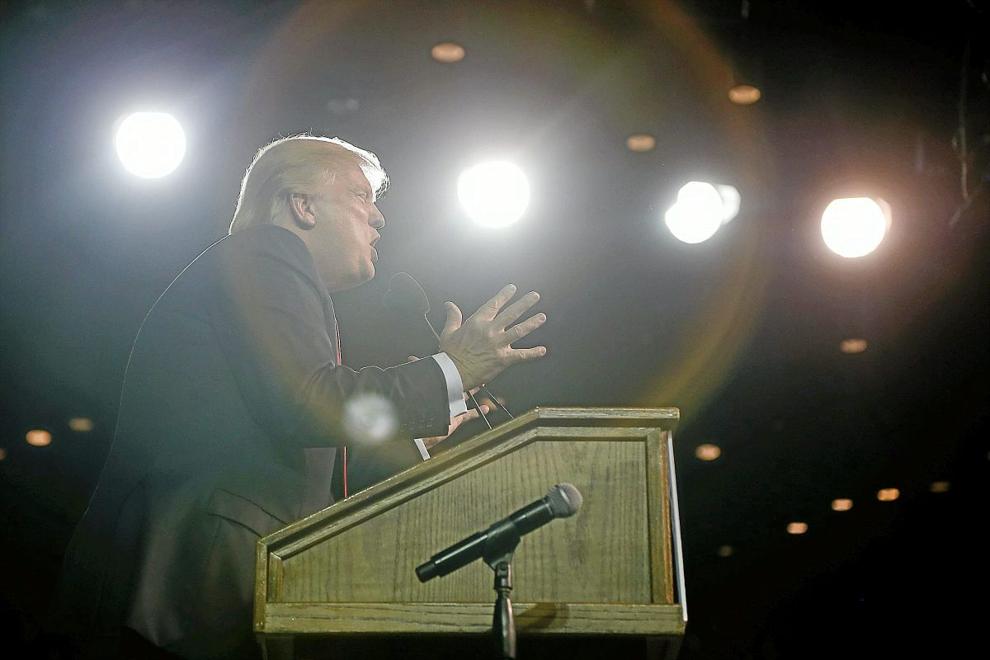 Presidential candidate Donald Trump addresses a crowd during his rally at the Mabee Center at Oral Roberts University in Tulsa on Wednesday, January 20th, 2016. IAN MAULE/Tulsa World
IAN MAULE
2016-01-21-ne-trump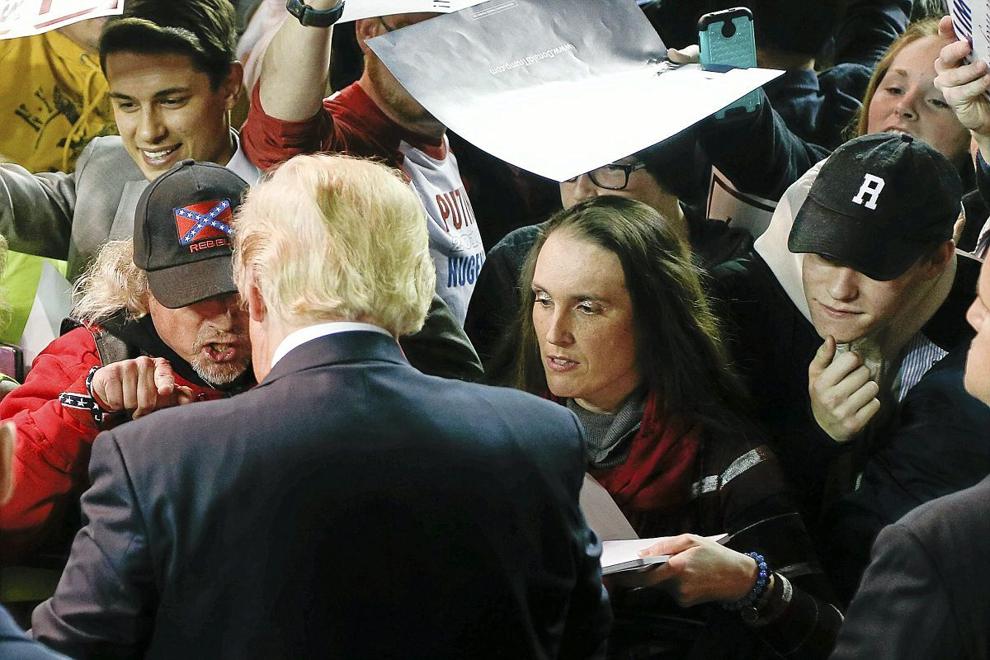 Donald Trump supporters attempt to get the presidential candidate's signature after his rally at the Mabee Center at Oral Roberts University in Tulsa on Wednesday, January 20th, 2016. IAN MAULE/Tulsa World
IAN MAULE
2016-01-21-ne-trump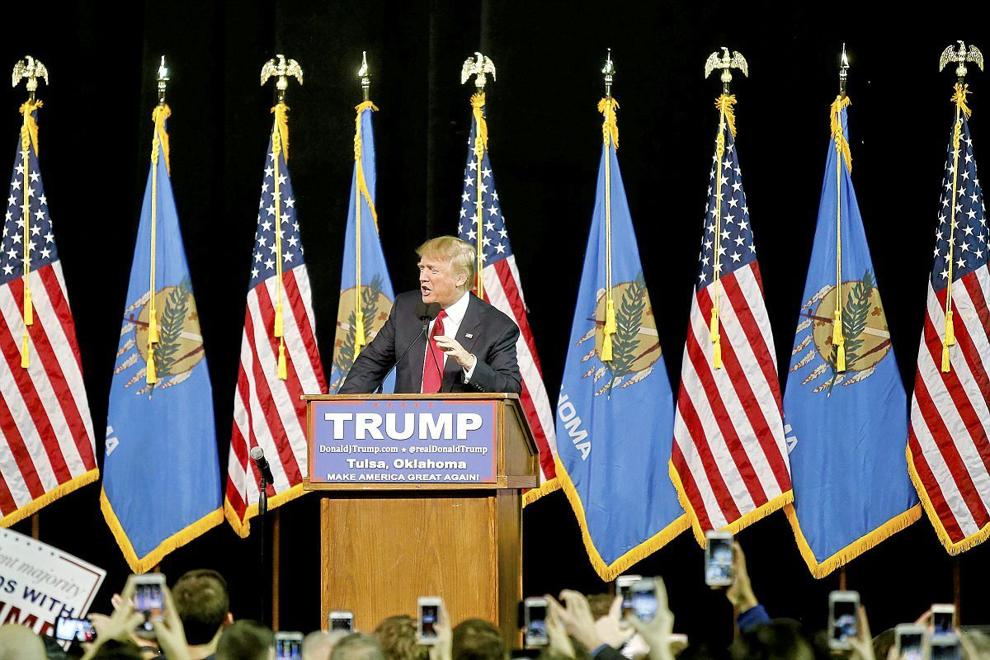 Republican Presidential candidate Donald Trump addresses a crowd during his rally at the Mabee Center at Oral Roberts University in Tulsa on Wednesday, January 20th, 2016. IAN MAULE/Tulsa World
IAN MAULE
2016-01-21-ne-trump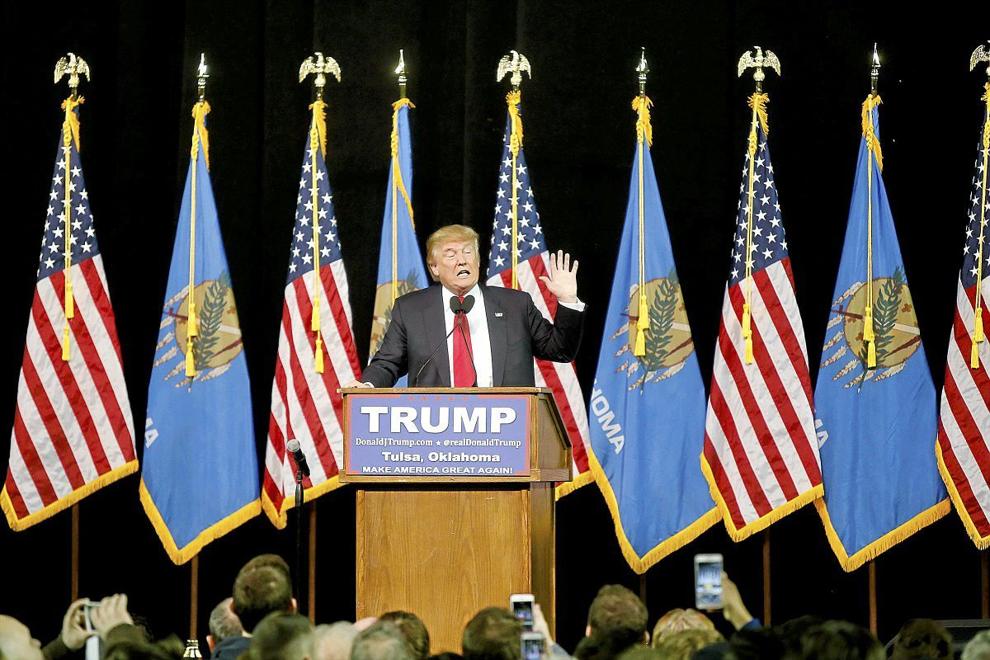 Republican Presidential candidate Donald Trump addresses a crowd during his rally at the Mabee Center at Oral Roberts University in Tulsa on Wednesday, January 20th, 2016. IAN MAULE/Tulsa World
IAN MAULE
2016-01-21-ne-trump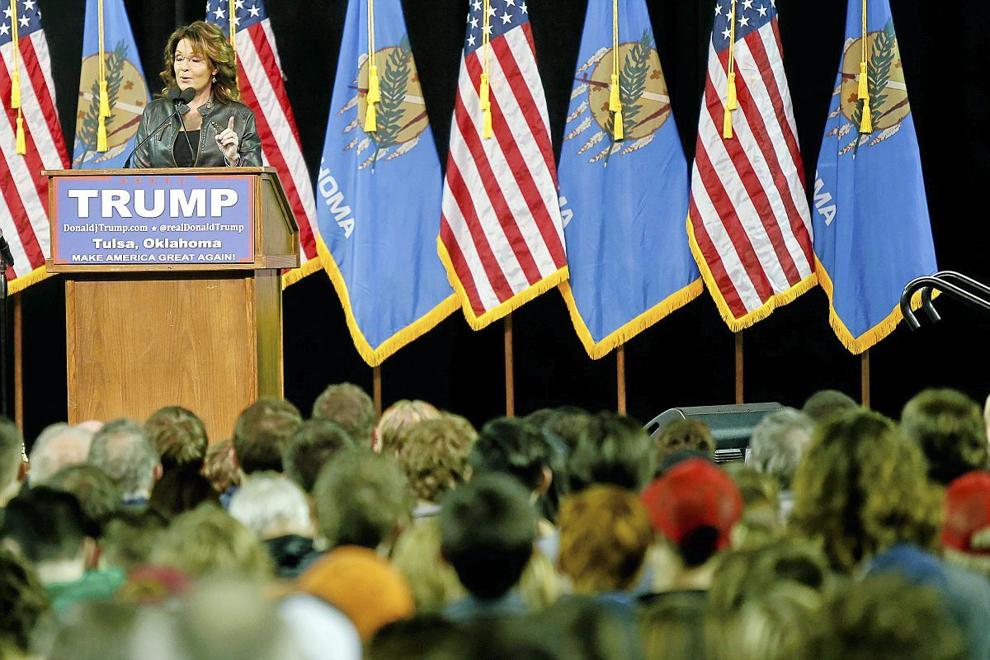 Former Republican Vice Presidential candidate Sarah Palin addresses a crowd crowd during Republican Presidential candidate Donald Trump's rally at the Mabee Center at Oral Roberts University in Tulsa on Wednesday, January 20th, 2016. IAN MAULE/Tulsa World
IAN MAULE
2016-01-21-ne-trump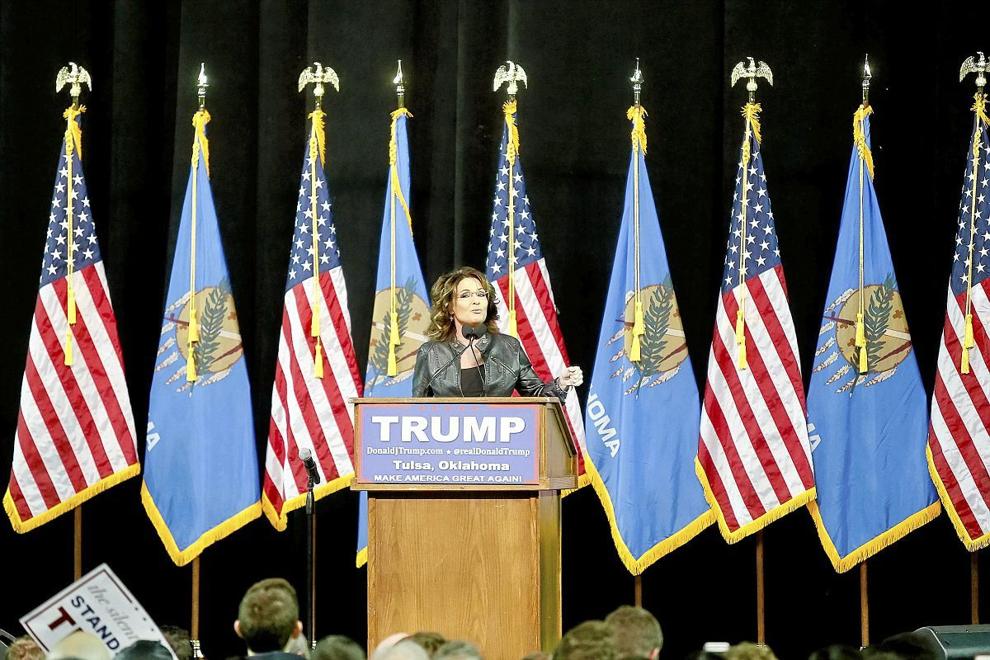 Former Republican Vice Presidential candidate Sarah Palin addresses a crowd crowd during Republican Presidential candidate Donald Trump's rally at the Mabee Center at Oral Roberts University in Tulsa on Wednesday, January 20th, 2016. IAN MAULE/Tulsa World
IAN MAULE
2016-01-21-ne-trump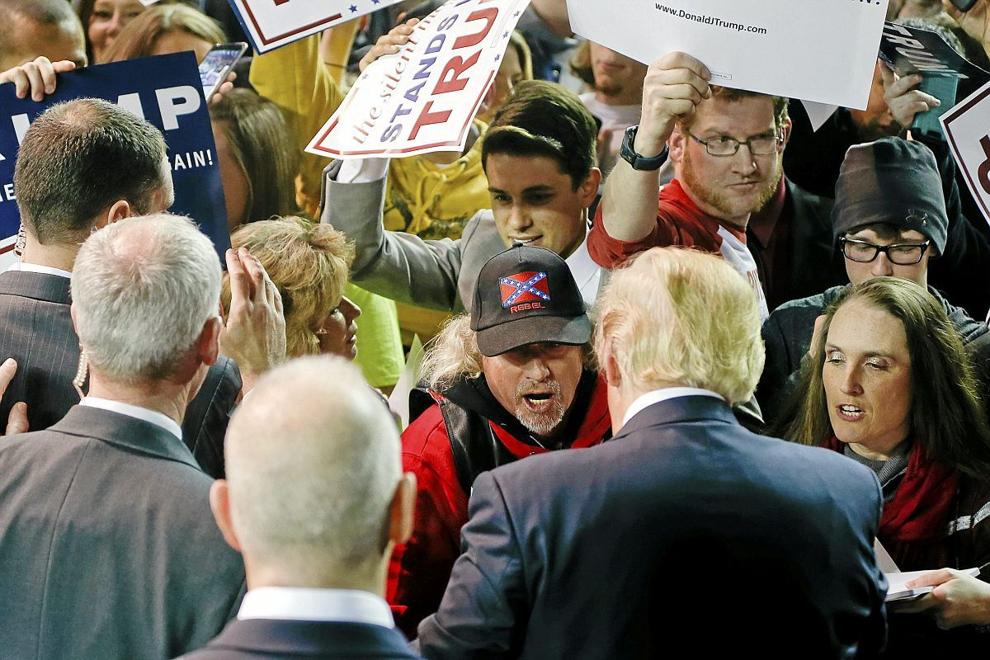 Donald Trump supporters attempt to get the presidential candidate's signature after his rally at the Mabee Center at Oral Roberts University in Tulsa on Wednesday, January 20th, 2016. IAN MAULE/Tulsa World
IAN MAULE
2016-01-21-ne-trump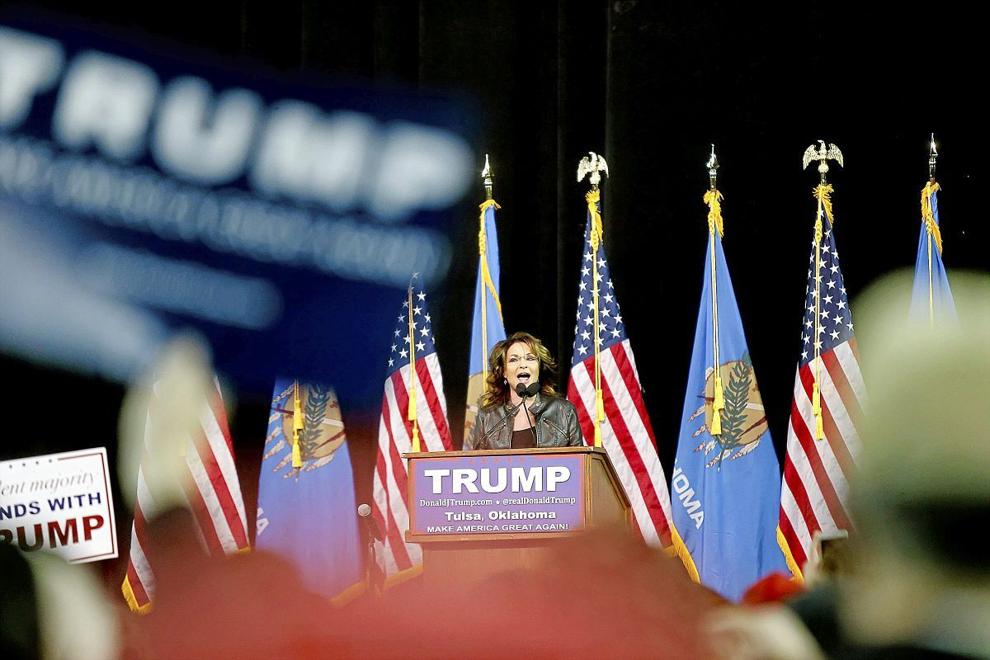 Former Republican Vice Presidential candidate Sarah Palin addresses a crowd crowd during Republican Presidential candidate Donald Trump's rally at the Mabee Center at Oral Roberts University in Tulsa on Wednesday, January 20th, 2016. IAN MAULE/Tulsa World
IAN MAULE
2016-01-21-ne-trump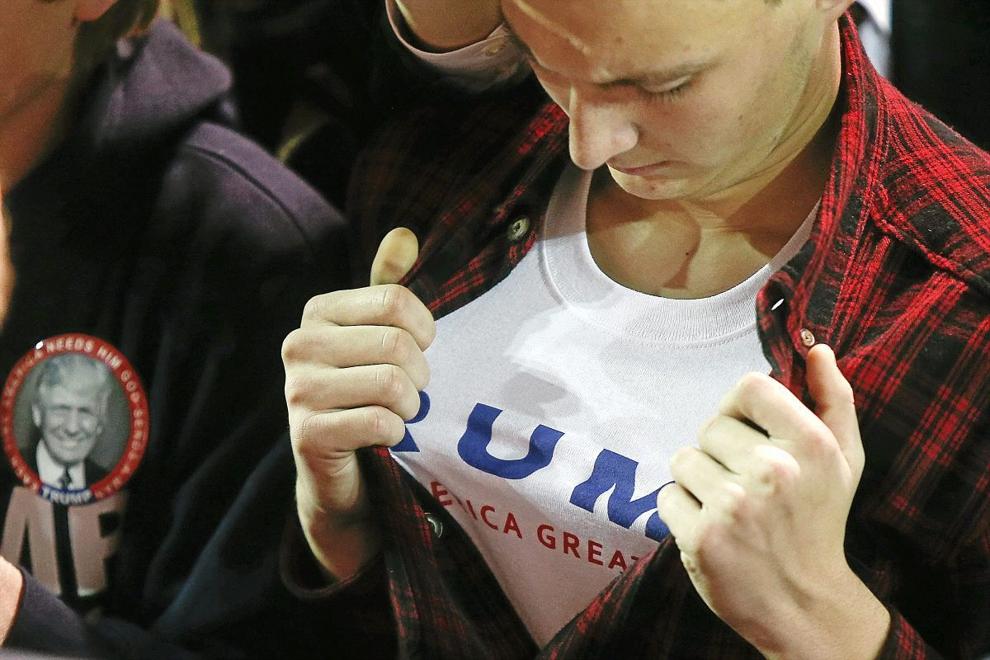 A Donald Trump supporter stretches his shirt while attempting to get the Republican presidential candidate's signature after his rally at the Mabee Center at Oral Roberts University in Tulsa on Wednesday, January 20th, 2016. IAN MAULE/Tulsa World
IAN MAULE
2016-01-21-ne-trump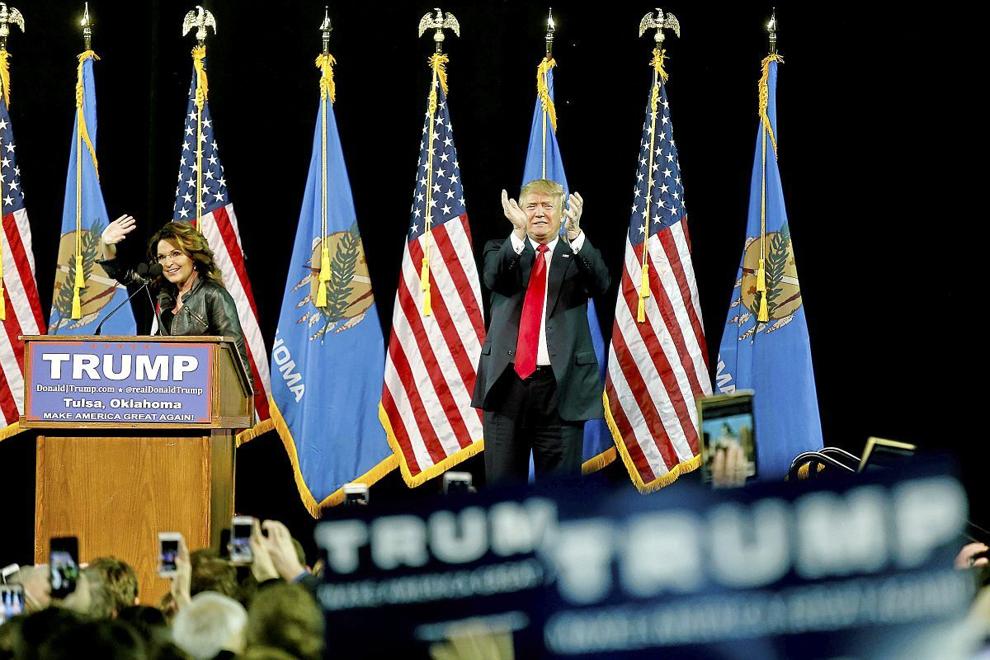 Former Republican Vice Presidential candidate Sarah Palin and Republican Presidential candidate Donald Trump wave to the crowd during his rally at the Mabee Center at Oral Roberts University in Tulsa on Wednesday, January 20th, 2016. IAN MAULE/Tulsa World
IAN MAULE
2016-01-21-ne-trump
Former Republican vice presidential candidate Sarah Palin addresses the crowd during Republican presidential candidate Donald Trump's rally at the Mabee Center at Oral Roberts University in Tulsa on Wednesday, January 20th, 2016. IAN MAULE/Tulsa World
IAN MAULE
2016-01-21-ne-trump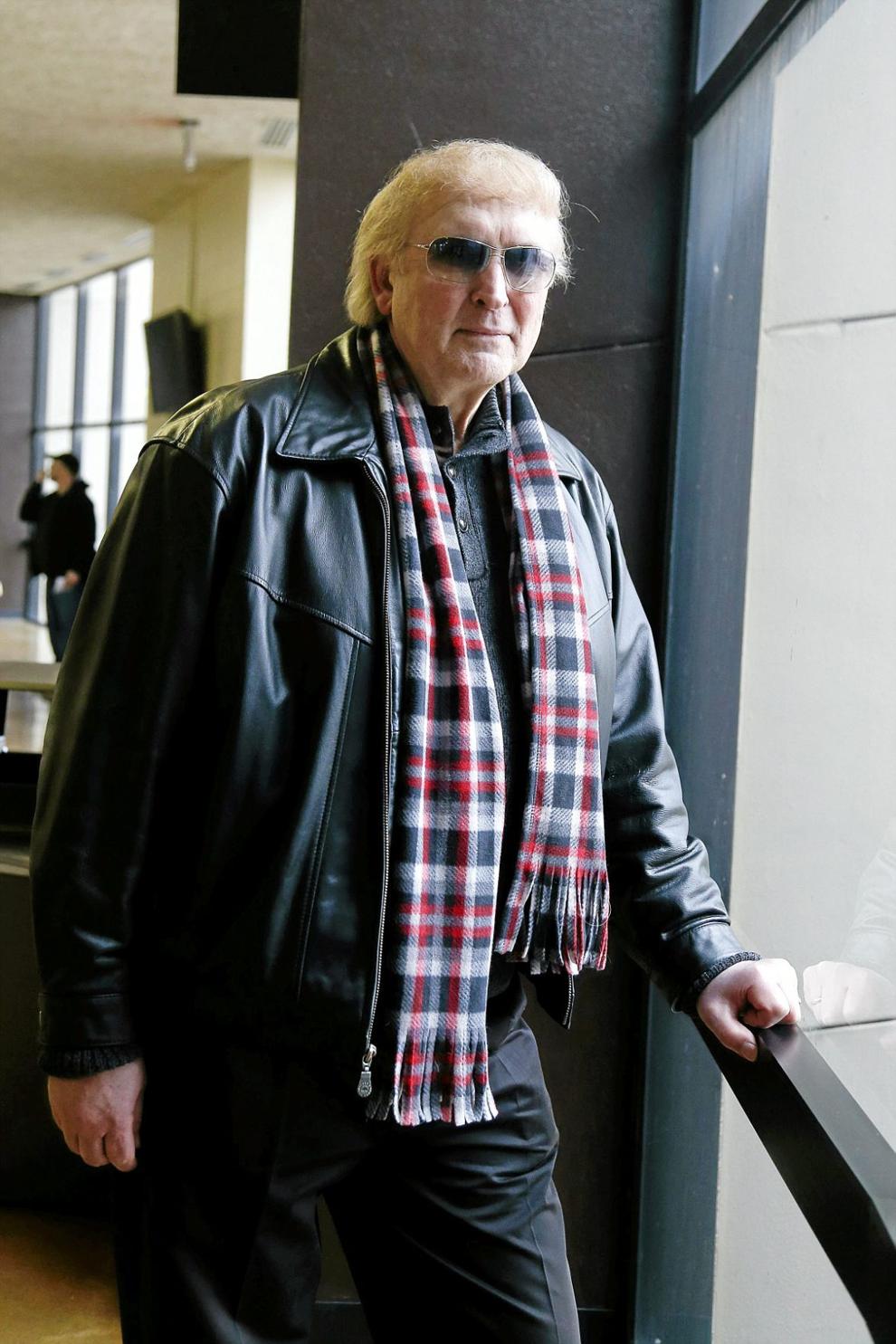 Eric Anderssen, of Tulsa, poses for a portrait before Republican Presidential candidate Donald Trump's rally at the Mabee Center at Oral Roberts University in Tulsa on Wednesday, January 20th, 2016. Anderssen has been told he favors Trumps. " Oh I get the double take all the time. Especially at restaurants." IAN MAULE/Tulsa World
IAN MAULE
2016-01-21-ne-trump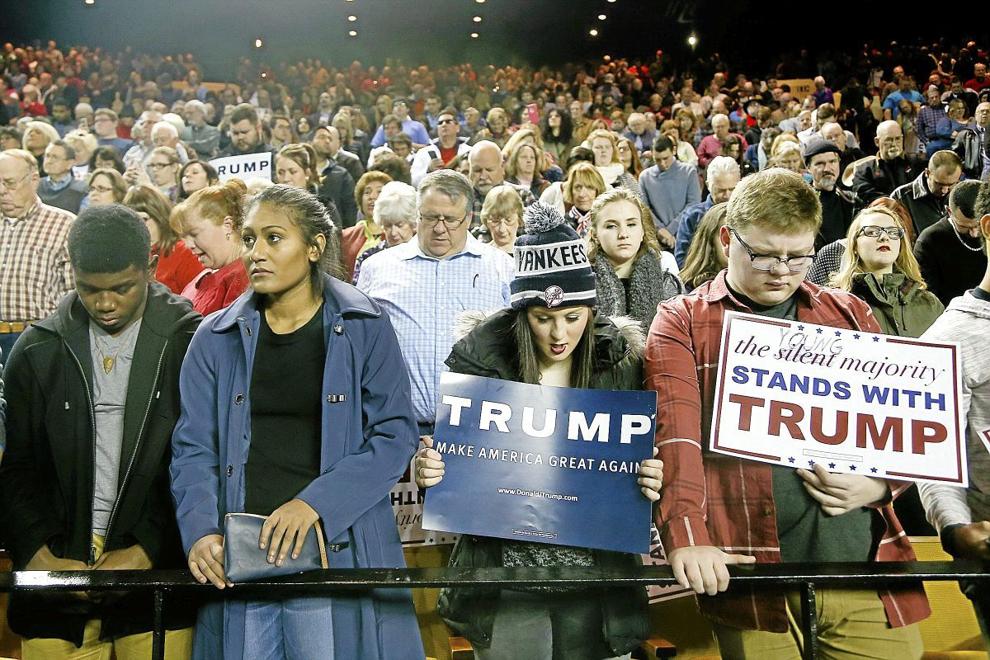 Brandon Billups, Victoria August, Ally Long, and Parker Van Arsdale bow their heads in prayer during Republican Presidential candidate Donald Trump's rally at the Mabee Center at Oral Roberts University in Tulsa on Wednesday, January 20th, 2016. IAN MAULE/Tulsa World
IAN MAULE
2016-01-21-ne-trump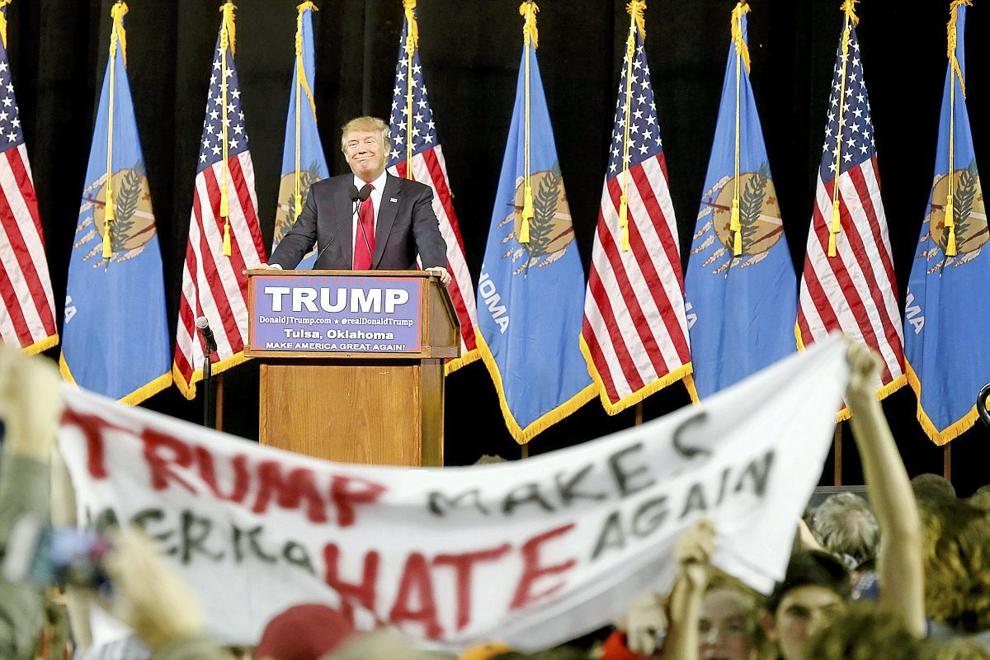 Republican Presidential candidate Donald Trump smiles while protestors hold up a sign during his rally at the Mabee Center at Oral Roberts University in Tulsa on Wednesday, January 20th, 2016. The protestors were escorted out of the rally. IAN MAULE/Tulsa World
IAN MAULE
2016-01-21-ne-trump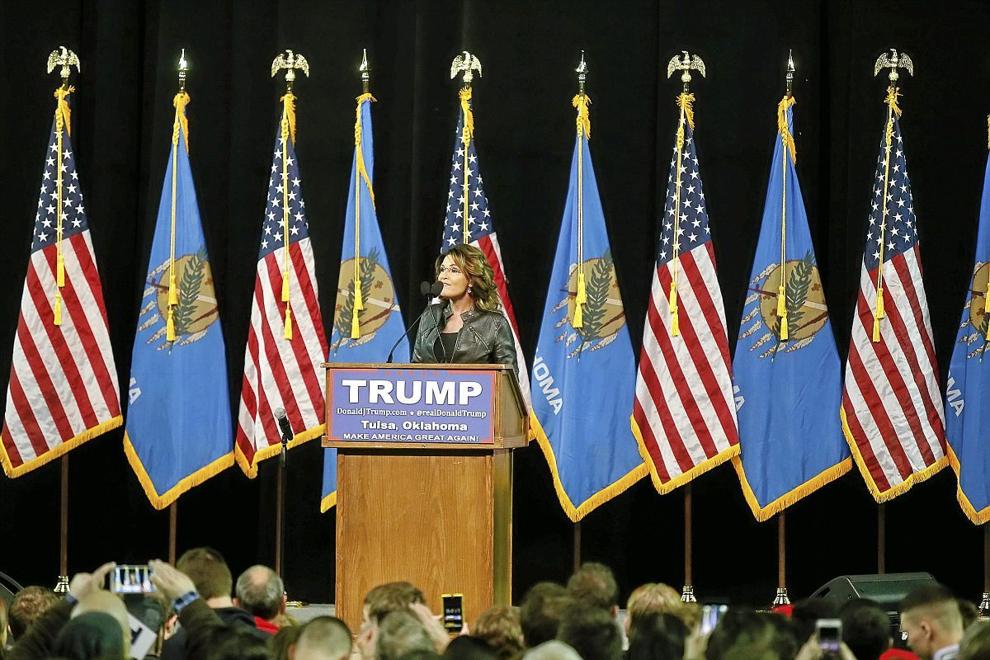 Former Republican Vice Presidential candidate Sarah Palin addresses a crowd crowd during Republican Presidential candidate Donald Trump's rally at the Mabee Center at Oral Roberts University in Tulsa on Wednesday, January 20th, 2016. IAN MAULE/Tulsa World
IAN MAULE
2016-01-21-ne-trump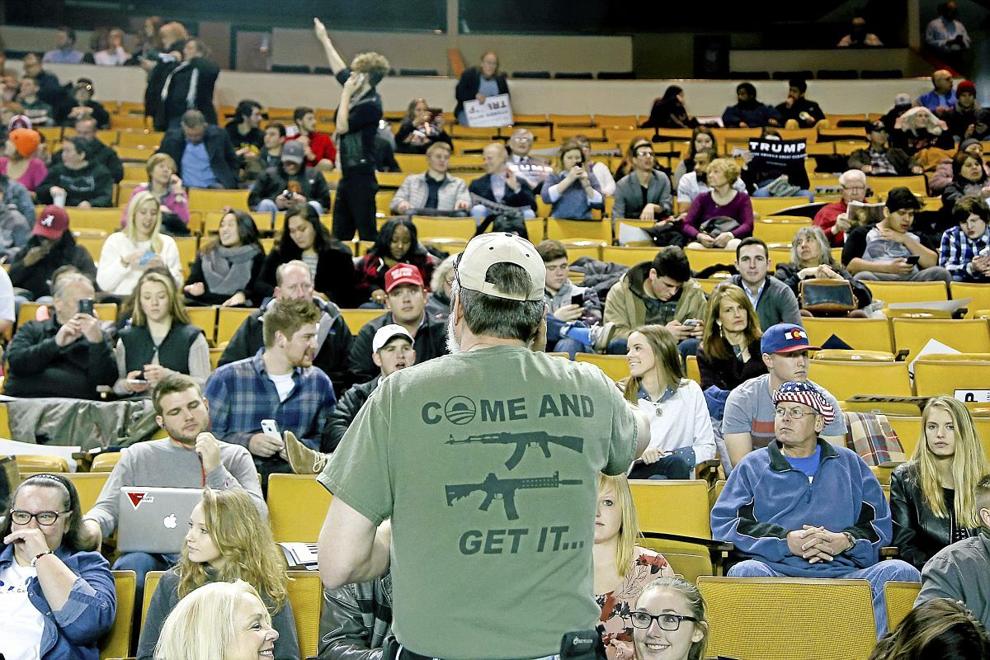 James Turney, of Bixby, Ok., talks on the phone before Republican Presidential candidate Donald Trump's rally at the Mabee Center at Oral Roberts University in Tulsa on Wednesday, January 20th, 2016. "We need a new candidate or the people will chose one with blood in the streets." said Turney about his support of Trump. IAN MAULE/Tulsa World
IAN MAULE
2016-01-21-ne-trump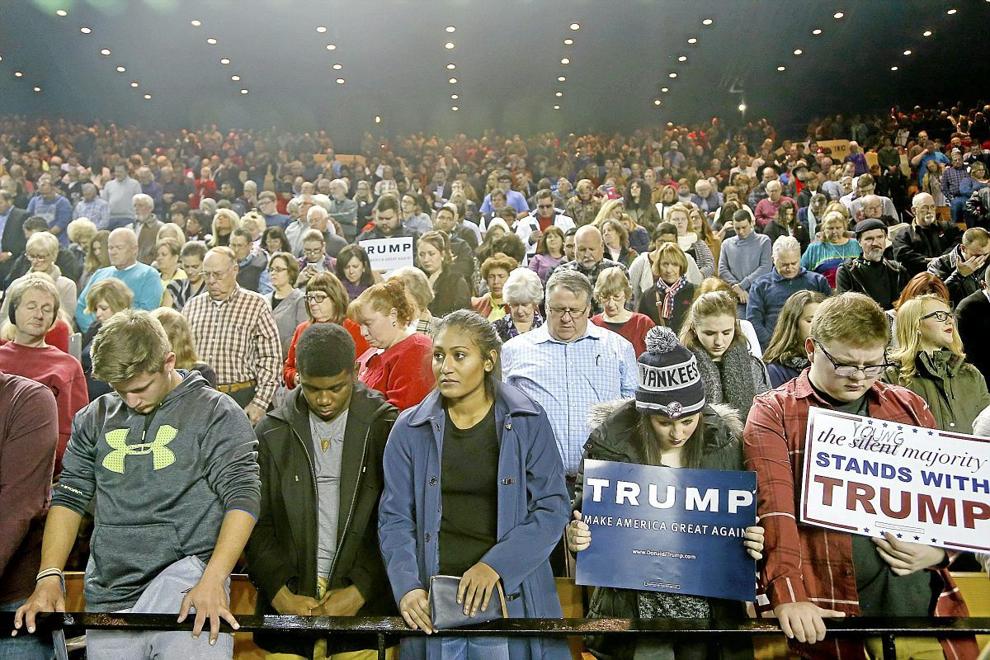 Brandon Billups, Victoria August, Ally Long and Parker Van Arsdale bow their heads in prayer during Republican Presidential candidate Donald Trump's rally at the Mabee Center at Oral Roberts University in Tulsa on Wednesday, January 20th, 2016. IAN MAULE/Tulsa World
IAN MAULE
2016-01-21-ne-trump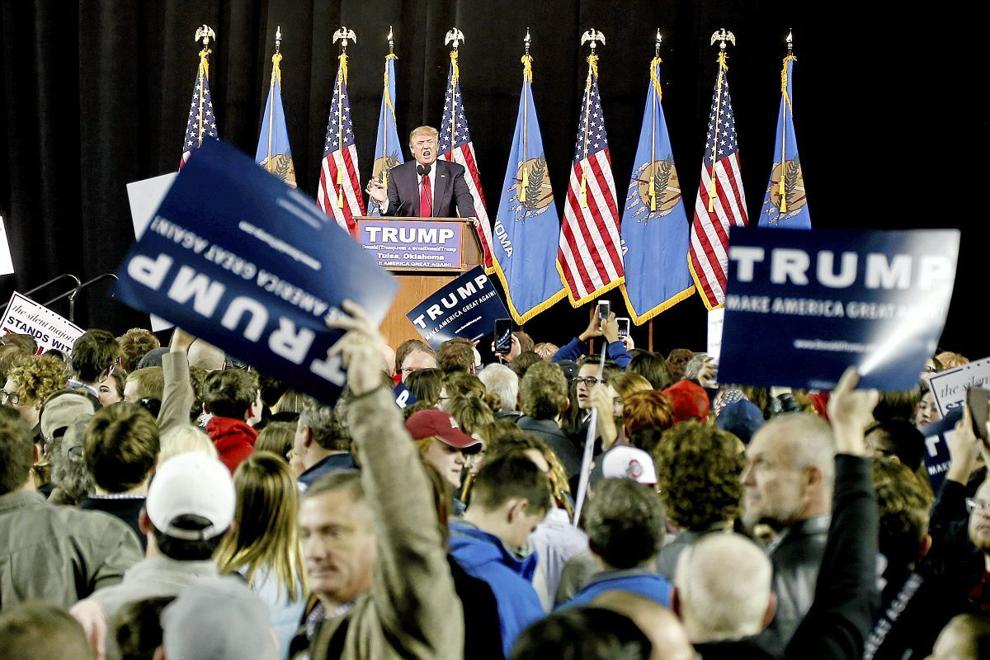 Presidential candidate Donald Trump addresses a crowd during his rally at the Mabee Center at Oral Roberts University in Tulsa on Wednesday, January 20th, 2016. IAN MAULE/Tulsa World
IAN MAULE
2016-01-21-ne-trump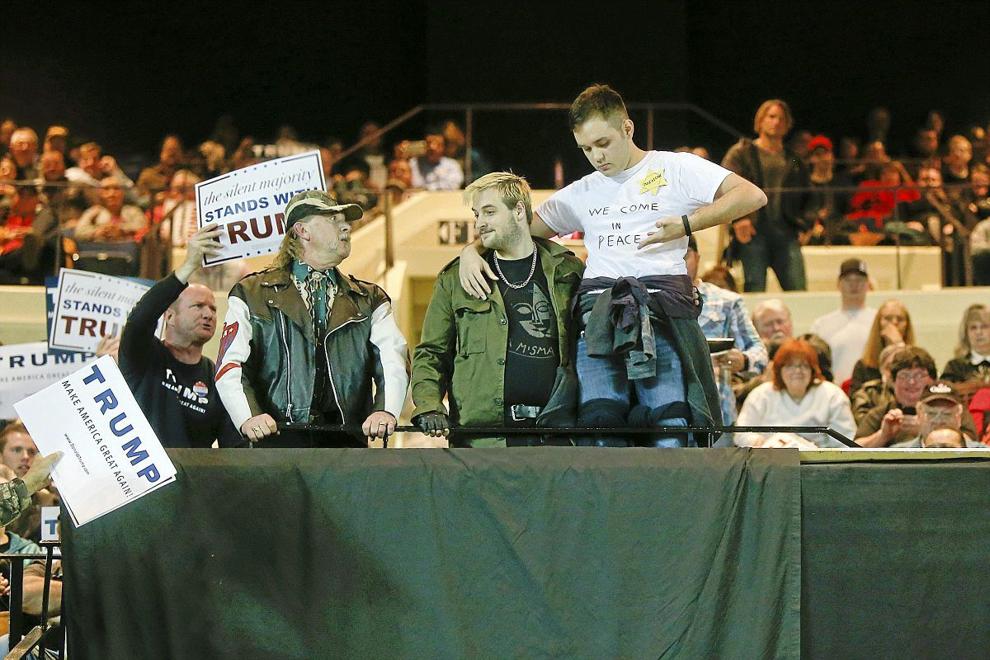 Donald Trump supporters argue with a pair of protestors during presidential candidate's rally at the Mabee Center at Oral Roberts University in Tulsa on Wednesday, January 20th, 2016. IAN MAULE/Tulsa World
IAN MAULE
2016-01-21-ne-trump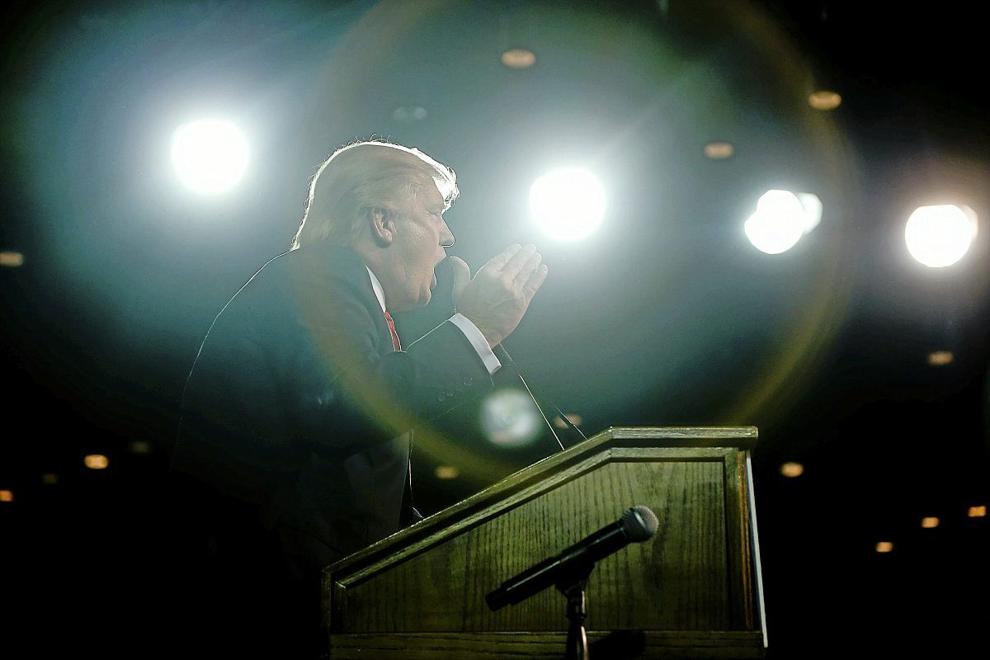 Presidential candidate Donald Trump addresses a crowd during his rally at the Mabee Center at Oral Roberts University in Tulsa on Wednesday, January 20th, 2016. IAN MAULE/Tulsa World
IAN MAULE
2016-01-21-ne-trump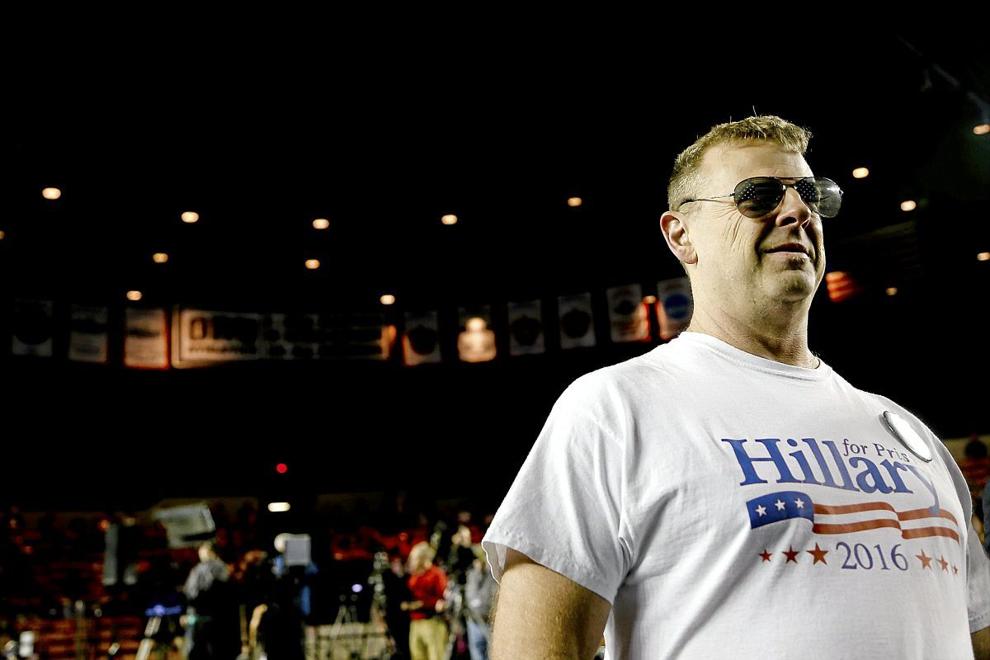 Mark Palzer of Tulsa wears a "Hillary for Prison" shirt before Republican Presidential candidate Donald Trump's rally at the Mabee Center at Oral Roberts University in Tulsa on Wednesday, January 20th, 2016. IAN MAULE/Tulsa World
IAN MAULE
2016-01-21-ne-trump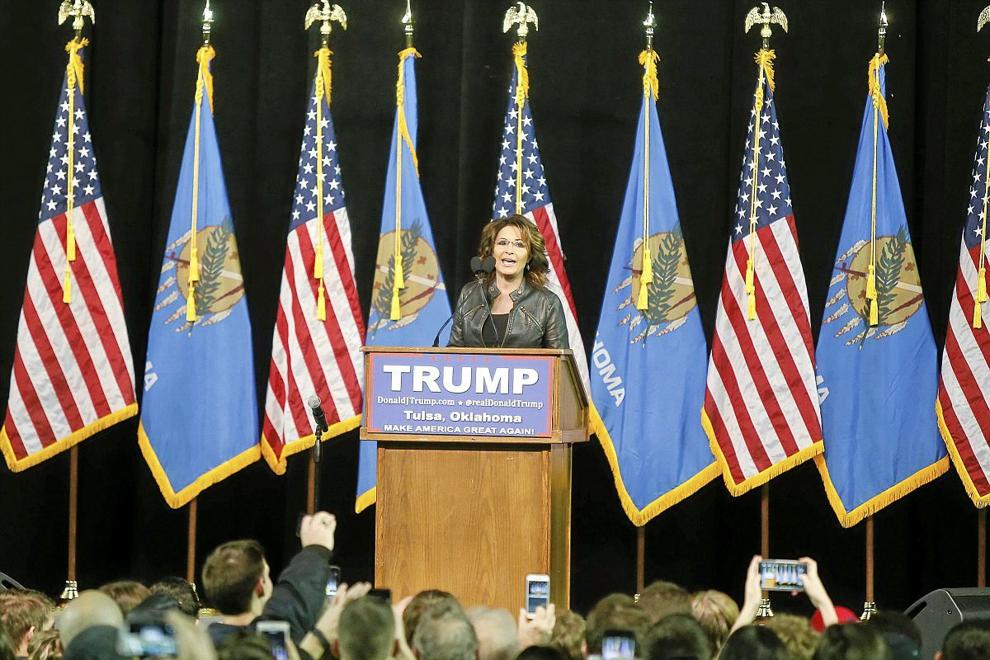 Former Republican Vice Presidential candidate Sarah Palin addresses a crowd crowd during Republican Presidential candidate Donald Trump's rally at the Mabee Center at Oral Roberts University in Tulsa on Wednesday, January 20th, 2016. IAN MAULE/Tulsa World
IAN MAULE
2016-01-21-ne-trump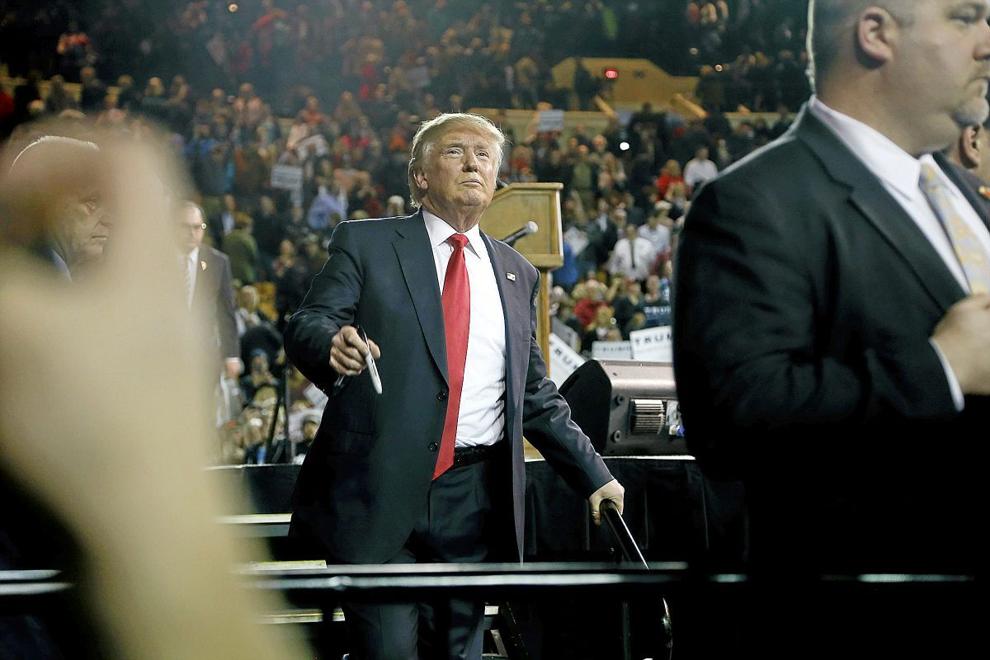 Republican Presidential candidate Donald Trump leaves the stage on his way to sign autographs during his rally at the Mabee Center at Oral Roberts University in Tulsa on Wednesday, January 20th, 2016. IAN MAULE/Tulsa World
IAN MAULE
2016-01-21-ne-trump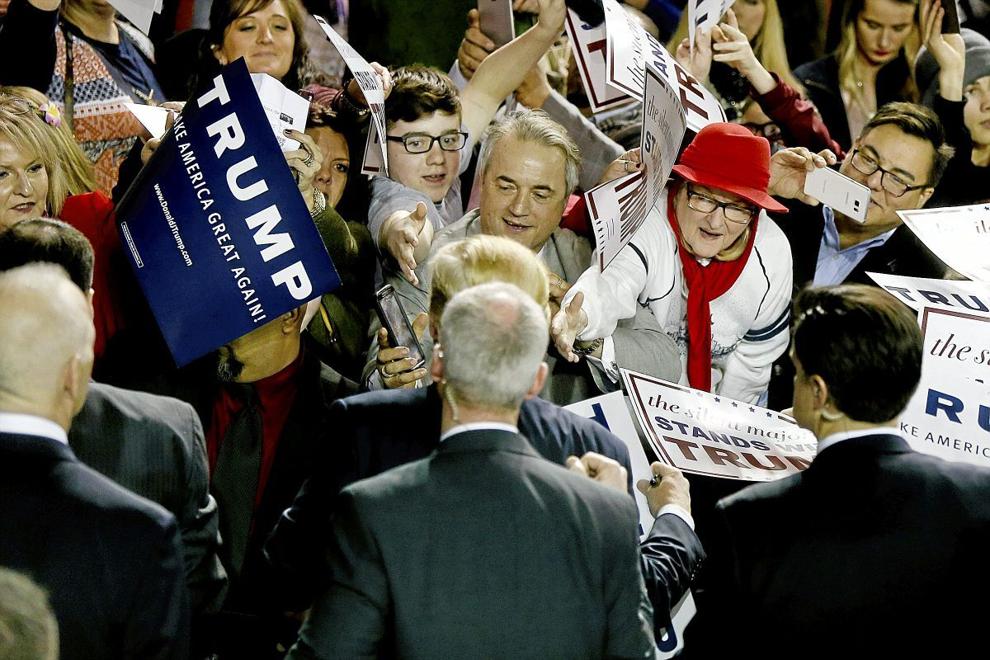 Donald Trump supporters attempt to get the Republican presidential candidate's signature after his rally at the Mabee Center at Oral Roberts University in Tulsa on Wednesday, January 20th, 2016. IAN MAULE/Tulsa World
IAN MAULE
2016-01-21-ne-trump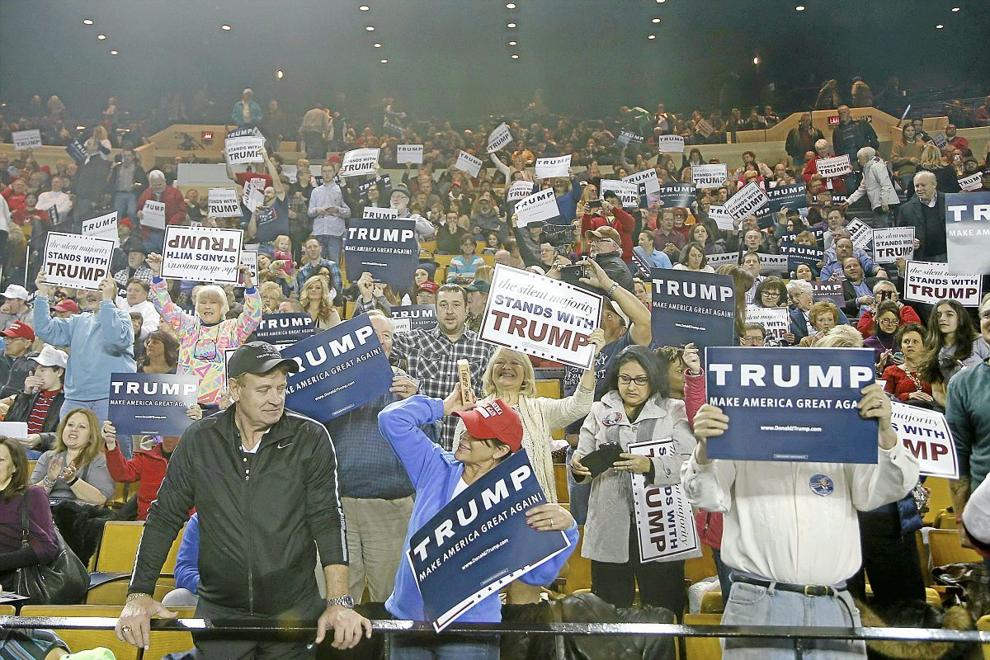 Republican Presidential candidate Donald Trump supporters cheer during his rally at the Mabee Center at Oral Roberts University in Tulsa on Wednesday, January 20th, 2016. IAN MAULE/Tulsa World
IAN MAULE
2016-01-21-ne-trump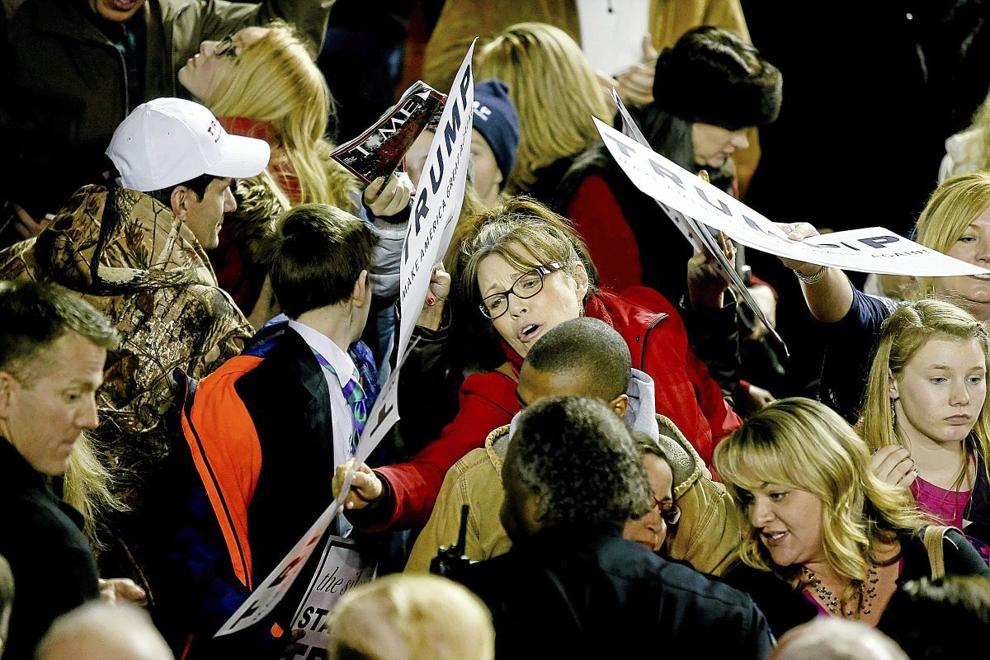 A Donald Trump supporter attempts to get the Republican presidential candidate's signature after his rally at the Mabee Center at Oral Roberts University in Tulsa on Wednesday, January 20th, 2016. IAN MAULE/Tulsa World
IAN MAULE
2016-01-21-ne-trump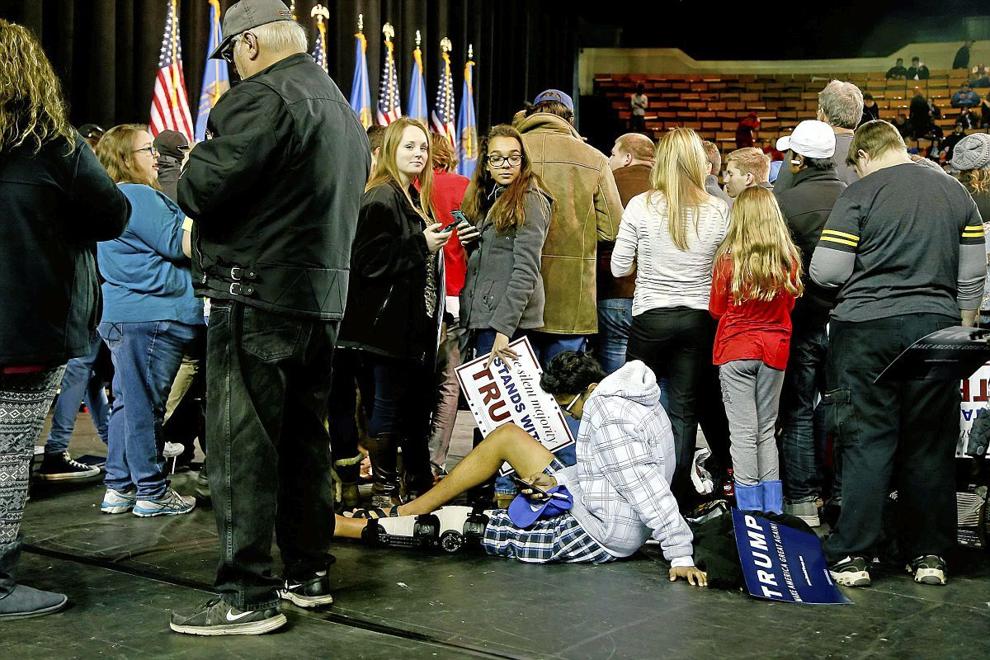 Aayush Soni, of Muambi,India, sits while waiting before Republican Presidential candidate Donald Trump's rally at the Mabee Center at Oral Roberts University in Tulsa on Wednesday, January 20th, 2016. IAN MAULE/Tulsa World
IAN MAULE
2016-01-21-ne-trump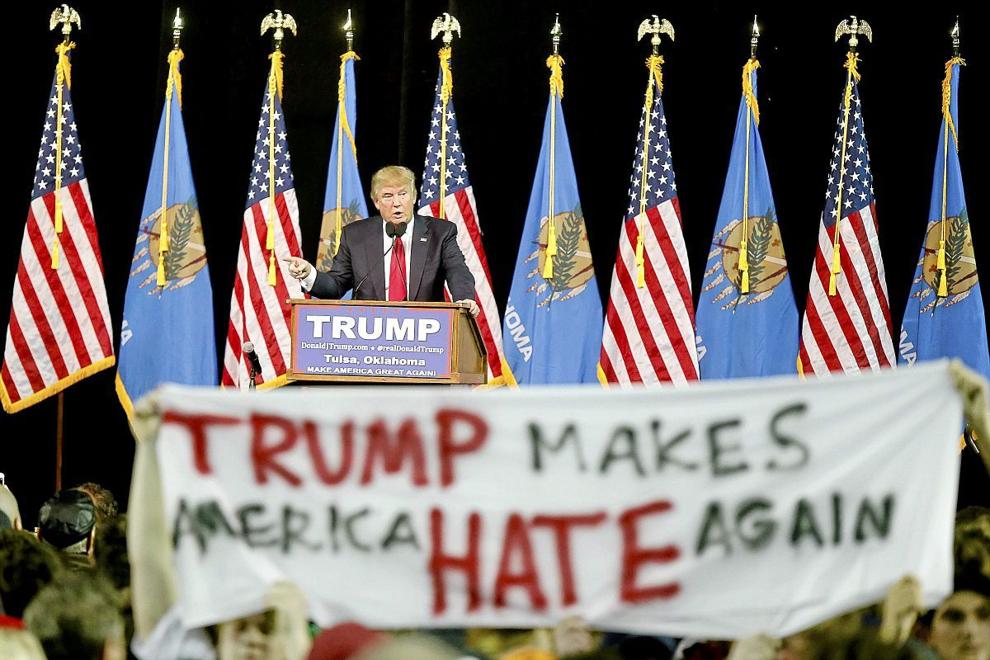 Republican presidential candidate Donald Trump addresses a crowd while protesters hold up a sign during his rally at the Mabee Center at Oral Roberts University in Tulsa on Wednesday, January 20th, 2016. IAN MAULE/Tulsa World
IAN MAULE
2016-01-21-ne-trump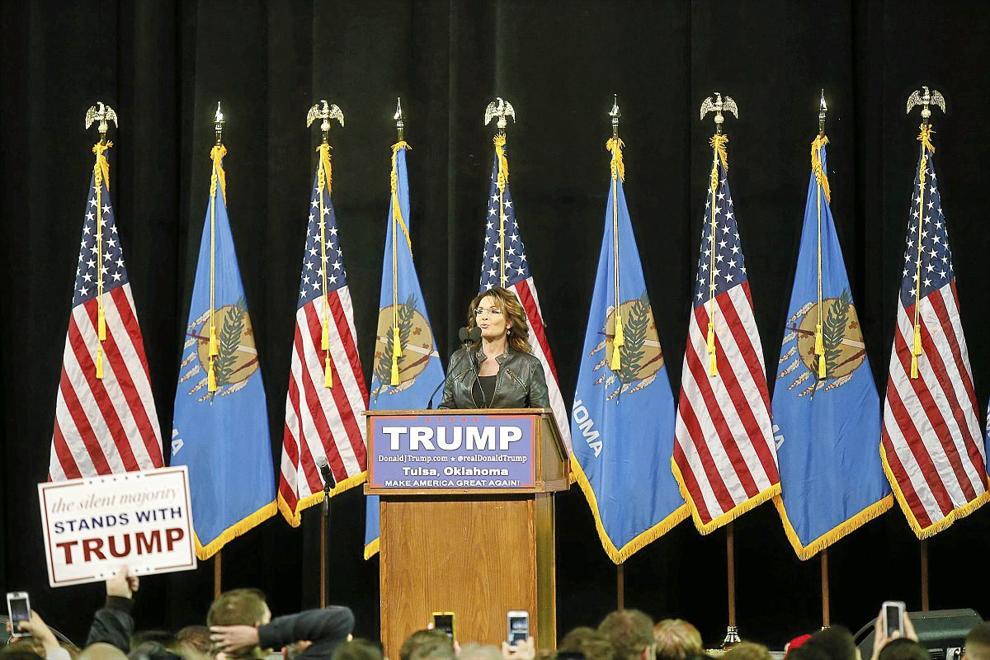 Former Republican Vice Presidential candidate Sarah Palin addresses a crowd crowd during Republican Presidential candidate Donald Trump's rally at the Mabee Center at Oral Roberts University in Tulsa on Wednesday, January 20th, 2016. IAN MAULE/Tulsa World
IAN MAULE
2016-01-21-ne-trump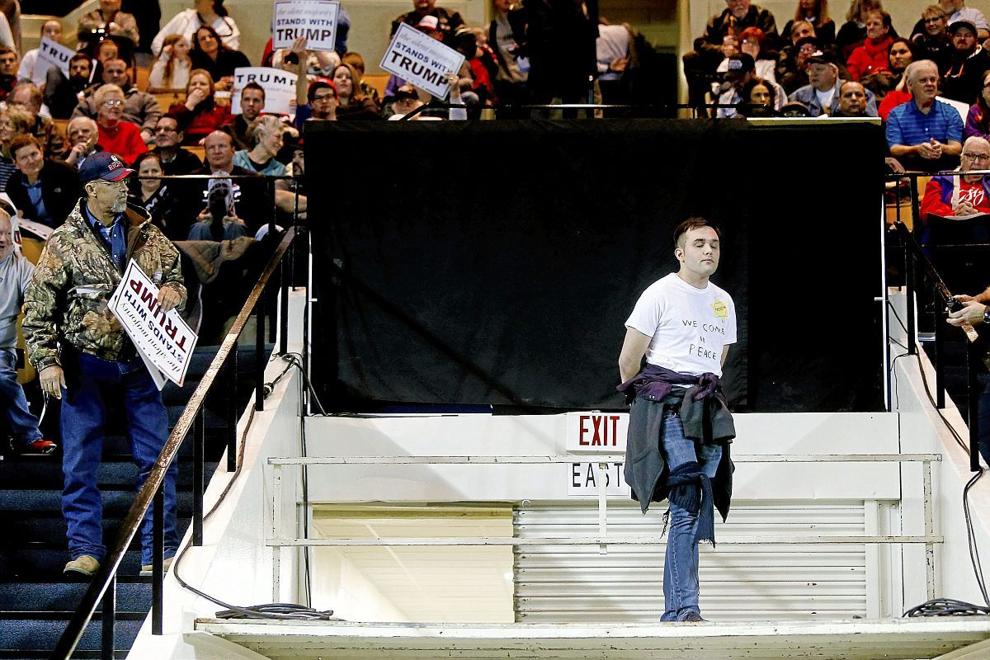 A protestor stands on an awning while Donald Trump supporters stare during presidential candidate's rally at the Mabee Center at Oral Roberts University in Tulsa on Wednesday, January 20th, 2016. IAN MAULE/Tulsa World
IAN MAULE
2016-01-21-ne-trump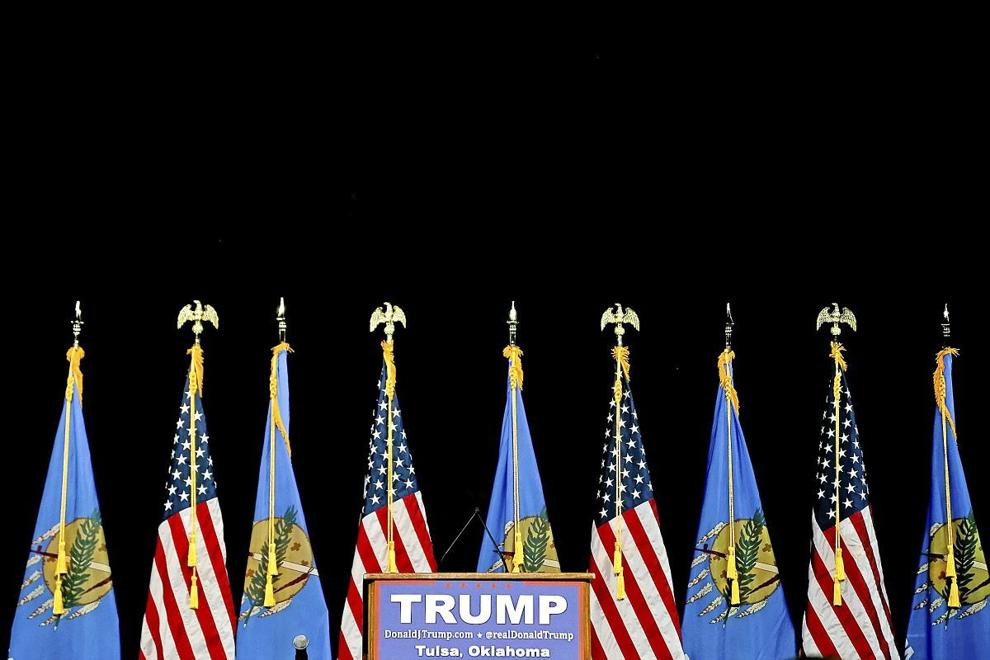 An empty podium sits before Republican Presidential candidate Donald Trump's rally at the Mabee Center at Oral Roberts University in Tulsa on Wednesday, January 20th, 2016. IAN MAULE/Tulsa World
IAN MAULE
Check out our latest digital-only offer and subscribe now
Check out our latest digital-only offer and subscribe now: Tulsaworld.com/subscribe
HIDE VERTICAL GALLERY ASSET TITLES