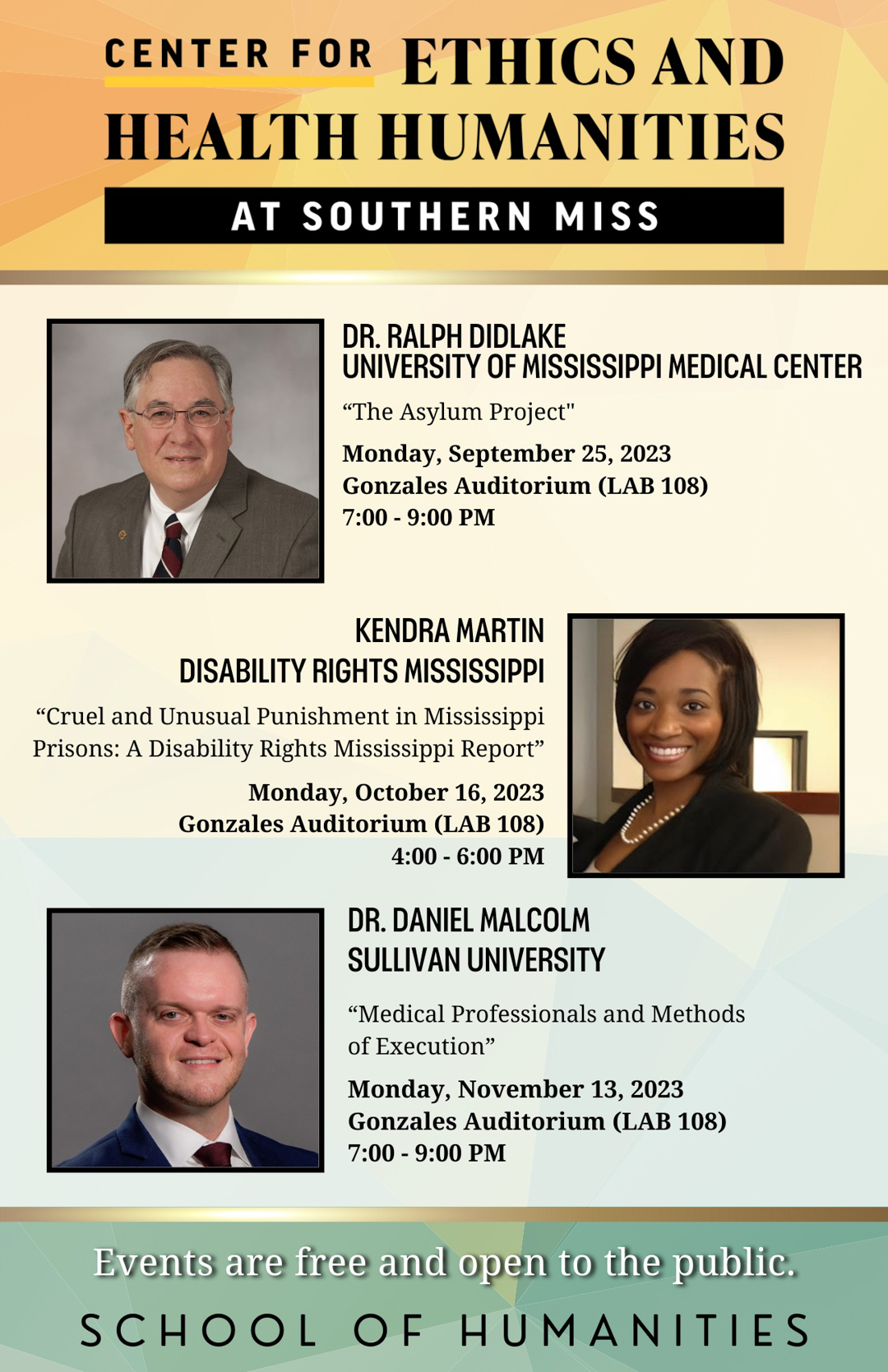 Fall Lecture Series to be Hosted by the Center for Ethics and Well being Humanities, Beginning from Sept. 25
The Center for Ethics and Well being Humanities (CEHH) at The University of Southern Mississippi (USM) has announced that it will be hosting a lecture series each in-particular person and on-line. The series will start on September 25 with a lecture by Dr. Ralph Didlake titled "The Asylum Project." The occasion will take spot on the Hattiesburg campus and is open to the public totally free of charge.
Dr. Didlake's lecture will concentrate on the efforts to handle the discovery of thousands of unmarked graves on the grounds of the University Health-related Center (UMC) in Jackson. Several of these graves belong to people who died at the Mississippi State Hospital for the Insane. The presentation will be held on September 25 at 7 p.m. in the Liberal Arts Constructing space 108. Alternatively, attendees can join on-line by means of Zoom with the Meeting ID: 880 7072 1142.
The CEHH's fall speaker schedule consists of two extra events. On October 16 at four p.m., Kendra Martin will give a speak titled "Cruel and Uncommon Punishment in Mississippi Prisons: A Disability Rights Mississippi Report." Martin will go over a current report by Disability Rights Mississippi that highlights the methods in which the state's prison method fails to respect the rights of disabled people. The lecture will take spot in the Liberal Arts Constructing space 108, and participants can also join on-line by means of Zoom with the Meeting ID: 839 8932 5528.
The final occasion in the CEHH fall speaker series will be held on November 13 at 7 p.m. Dr. Daniel Malcolm and Dr. Jeremy Rainey will present on "Health Specialists on the Death Penalty." They will go over the ethical considerations involved in administering the death penalty from the viewpoint of overall health experts. Dr. Rainey is an anesthesiologist at UMC, although Dr. Malcolm is a pharmacist at Sullivan University. The lecture can be accessed on-line by means of Zoom with the Meeting ID: 882 7061 5467.
The USM CEHH is devoted to delivering educational possibilities on significant ethics and bioethics difficulties. In addition to hosting lectures and workshops featuring nationally recognized sponsors, the CEHH supports academic minors, presents continuing education possibilities for healthcare experts, facilitates collaborations involving overall health researchers and neighborhood healthcare providers, and delivers continuing education applications in nursing and other overall health professions. To understand extra about the USM CEHH, interested parties can pay a visit to their site.