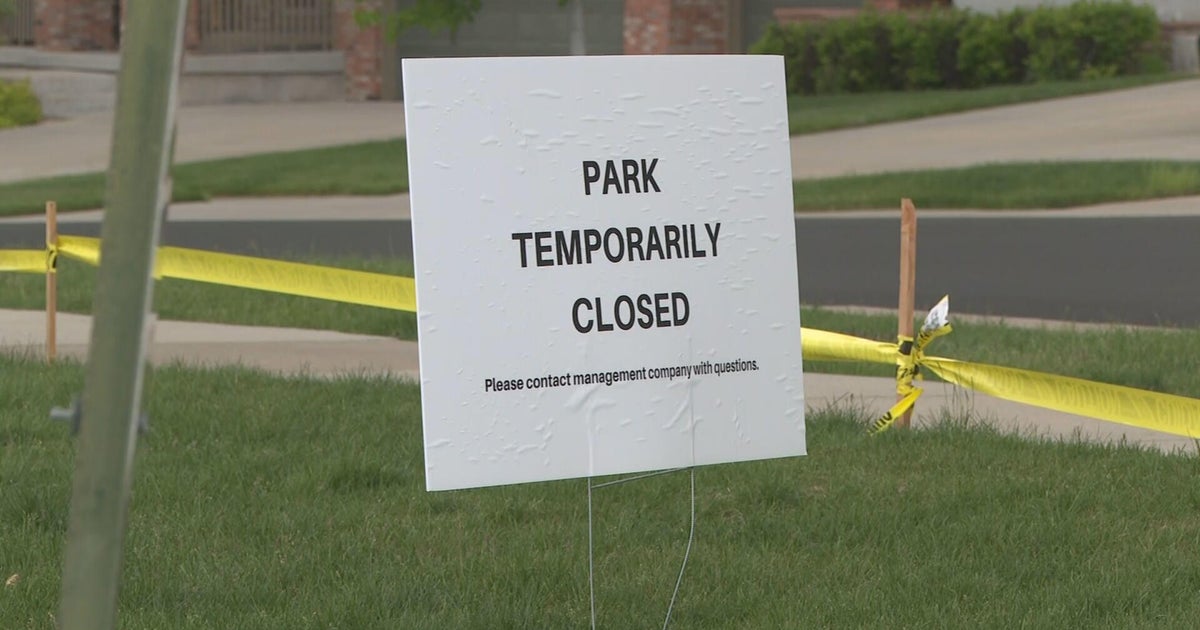 Douglas County Health Dept. investigates dog deaths after visiting Newlin Meadows Park
The Douglas County Health Department is continuing its investigation into several recent dog deaths in the county.  
Those deaths reportedly happened after visiting Newlin Meadows Park, which is in Parker near Chambers and Newlin Gulch Boulevard. All were within two weeks of each other, as first reported by CBS News Colorado's Olivia Young.  
CBS
"It is definitely odd and has definitely made me concerned," said Addison Quintana, a dog owner who lives nearby.  
As the rain cleared for a few hours Monday, Quintana was among many people sneaking in a walk. It's a routine she and her two dogs, Nala and Mr. Pup Pup, have grown accustomed to for years. 
"I try to walk them every 2-3 hours," Quintana said. "It also gets me up."  
Typically, the trio spans multiple paths and parks, but not anymore. Lately, they aren't alone. Down the street, caution tape and closed signs surround a small neighborhood park where the HOA says four dogs visited recently and later died.  
The first was Sophie, a white lab who suddenly had trouble standing and had to be put down. Neighbors say another dog later collapsed while running in the park, and two others died of seizures. 
The county health department is investigating the recent incidents, but so far hasn't found any possible substances or evidence the deaths are connected to the park. Without a necropsy, answers could remain few and far between. 
CBS
"To me, the cases sound like they could be completely unrelated," said Dr. Lisa Samborn, the medical director at VCA Douglas County. "I'm not saying 100% that they are, but they could be."  
According to Samborn, blue-green algae, and LSD or fentanyl in high doses can cause similar symptoms in dogs, but not so suddenly.  
She said it appears the cases have differences in their clinical signs, which leads her to urge dog owners to not get too worried.  
"I would caution people to try to stay calm because it's also possible these four cases just happened to be really unfortunate and sad events that occurred in close proximity," Samborn said.  
The HOA declined to comment on Monday and the park remains closed until further notice.  
The Douglas County Health Department released the following statement:  
CBS
"We acknowledge and share in the grief felt by pet parents for the loss of their beloved dogs, as we continue to work with the Newlin Gulch HOA to determine if there is a naturally occurring substance in the park or if the dogs had been exposed to a man-made, synthetic toxin that was ingested there. In the absence of veterinary test results, there is no way to conclusively determine the cause of death. We applaud the HOA for their continued diligence and for proactively closing the park until further notice." 
Conor McCue